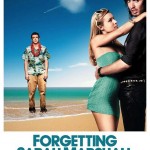 With the release of "Forgetting Sarah Marshall" on DVD only 5 days away, (I visited Blockbuster earlier this evening) it has made me think about this issue again. Who is the girl on the poster?
I have included a picture of the poster and a picture of Kristen Bell (that is who it is supposed to be) to compare. That girl on the poster is not Kristen Bell. Why hasn't anything been written or said about this? I only bring it up now because when the film was at the cinema, I wasn't running this site. I did however point this out to Mirren (she was a guest on the last podcast – you did listen to the last podcast I hope) and she was also wondering what was up with this poster.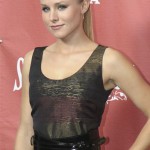 It is one of two things:
a) Kristen was not available for the poster shoot and the producers assumed no one would notice. It would seem no did.
Or b) They have airbrushed her beyond the point of recognition. This is a possible option except she looks too chunky. Kristen Bell is a tiny, thin little thing. This girl has some meat on her. And Kristen Bell's features are sharper than this girl.
This will be filed under the "what the…?" catagory I'm sure but watch those movie posters, they are not all they would seem.