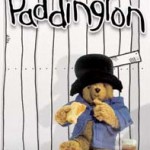 A week ago my dad bought me a Paddington Bear DVD when I was sick and I haven't stopped watching it. I am still sick and if you listened to the podcast you already know that. A few days ago I bought another Paddington DVD, it was called Paddington Bear Goes to the Movies and I loved it, it was so good, I have watched it again and again. My dad liked it too and my mum liked it as well.
so if you have little kids, try these DVDs.
Listen to Episode 2 of the podcast for more info.