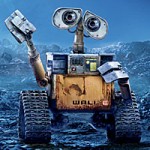 Last weekend my family and I went to see Pixar's new film, Wall-E and it was a fun film to watch. It isn't as funny as the other Pixar films but as i said, it is still a great film and when it comes out (18th of September in Australia) go see it at the movies, it is really worth it.
Big Geek and I talk about Wall-E in episode 5 of the netcast.
You can watch the trailer here.