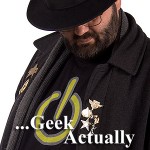 Hosts: David McVay, Mirren Lee, Jacob Oberman and Nicholas McVay
The gang's all here on this wild and fun Christmas special. Hard news mostly takes a break this episode as we celebrate our last episode for the year. It is the Christmas season, so all the hosts share their lists of viewing – the good, the bad and the down right ugly!
Mirren and David review the new Ricky Gervais film "Ghost Town" and David reviews "Zack and Miri Make a Porno".
We, at "Geek, Actually", want to wish everyone a happy and safe holiday season. We will return January 6th, 2009.
This episode carries an explicit tag due to possible, infrequent, bad language.
Listen or download it here or subscribe to it on iTunes
Podcast: Play in new window | Download
(This post edited 24th May, 2009)