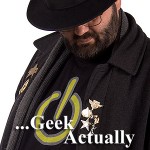 Hosts: David McVay and Nicholas McVay with special guest Katrina Smith
Okay, first off, I know the episode is late. Sorry but all problems rectified and everything should be back to normal next week.
David and Nicholas (The Little Geek) fly solo in this episode as Mirren is busy with clients and Jacob is still away (this time in Melbourne).
David and Nicholas review Apple's announcements at Macworld and the film "Madagascar : Escape 2 Africa" and David reviews Jim Carrey's new film, "Yes Man".
Katrina Smith (Stand Up Comedian, Actress, Singer, Songwriter) joins David in a pre-recorded analysis of the remake of "The Day the Earth Stood Still" that was supposed to go for 10 minutes and ended up going for 45 minutes! Interesting stuff.
This episode carries an explicit tag due to possible, infrequent, bad language.
Listen or download it here or subscribe to it on iTunes
Podcast: Play in new window | Download
(This post edited 24th May, 2009)