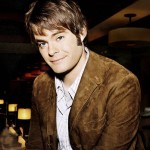 This post is purely food for thought. When I watched 'Forgetting Sarah Marshall' last year I turned to Mirren Lee (Geek Actually co-host and my mom) and I proposed a thought to her. Judd Apatow (Producer of Forgetting Sarah Marshall) seems to take whoever is co-starring in his current film and cultivate that person into the star of the next (or close to the next). Let's see if that works. The following films are directed or produced (or both) by Apatow.
The 40 Year Old Virgin – Starring Steve Carell, but co-starring Paul Rudd (although his part in Knocked Up is large, he still hasn't gotten his own Apatow film yet) and Seth Rogan (see below)…
Knocked Up – Starring Seth Rogan (what do you know!), but co-starring Paul Rudd (see above), Jason Segal (keep reading) and Jonah Hill (stay tuned)…
Talladega Nights – Starring Will Farrell, but co-starring John C. Reilly (wait for it) and Gary Cole (he comes back to co-star but no lead yet)…
Superbad – Starring Jonah Hill (bingo!), but co-starring Bill Hader (wait until the end, no cheating) and Seth Rogan (more on him in a minute)…
Walk Hard: The Dewey Cox Story – Starring John C. Reilly (Ah Ha!), (no notable co-star linking…yet!)
Forgetting Sarah Marshall – Starring Jason Segal (I told you he would be back), but co-starring Jonah Hill, Paul Rudd, Bill Hader (hold on, it's coming) and Russell Brand (please make a whole film about this character, Aldus, I beg you!)…
Step Brothers – Starring Will Ferrell and John C. Reilly (They are both Back!)
Pineapple Express – Starring Seth Rogan (he's back!) and James Franco, but co-starring Gary Cole, Danny McBride (he'll be groomed next, mark my words) and Bill Hader (keep reading)…
Now, the reason for all of this, I said to Mirren at that screening, "I'll bet Bill Hader will be the lead of the next Apatow film."
Okay, it was not the next one, but ComingSoon.net reports today that Bill Hader and Apatow are teaming up to make a slasher film! I don't think it would take a rocket scientist to make the conclusions I have made but it is fun to be kinda right :-)
Hader said, "It's partially Straw Dogs meets Halloween meets Home Alone meets Monster Squad.' He went on to say, "I don't know if it's even going to get made, Judd met with us and said "I want to do a horror movie with you. I want to see you in a slasher movie."'
As far as my little theory goes, I don't know, I think it might just be the rantings of a geek.
As far as the film is concerned…I think Hader might be having us on a little. I suspect it is a send up of horror films. Once again, I have to say, let's wait and see.