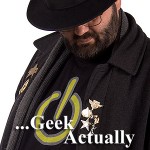 Host: David McVay
Geek Actually is brought to you by listeners, just like you. Thanks for your donations. If you wish to make a donation, go to geekactually.com.
David flies solo to tell you the weeks film and tech news. First up he discuss Christian Bale's apology, The Inglourious Basterds trailer, Mickey Rourke's amazing BAFTA speech and he tries to understand why DC has chosen a redheaded lesbian Batwoman to replace Batman.
Film news includes Candyland The Movie, Michael Moore's next film, Halloween 2, Eliza Dushka wants Iron Man 2, Christopher Nolan's next film, Kate Winslet's bum and the Wachowski's may take on Superman!
Tech news includes Facebook's legal problems, Quicktime Pro, Apple Stores get a face lift, Android drops multi-touch and a lot of news about Australia's Clean Feed.
David reviews three films this week. First up, does Mickey Rourke deserve the Oscar for "The Wrestler"? Absolutely! Secondly, let's get our hands dirty with "My Bloody Valentine 3D" and then another Oscar contender, "The Reader".
As always this episode carries an explicit tag due to possible bad language.
Listen or download it here or subscribe to it on iTunes

Podcast: Play in new window | Download
Show Notes:
Just a reminder, if you have any comments about the episodes please leave them in the comments field below or email us using the contact link above. If you are an iTunes user, please leave a review as we are trying to get on the featured list and every review helps. Your comments (good or bad) help us improve the show.
(This post edited 24th May, 2009)