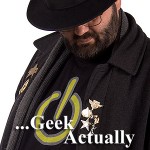 Hosts: David McVay, Jacob Oberman and Nicholas McVay
Geek Actually is brought to you by listeners, just like you. Thanks for your donations. If you wish to make a donation, go to geekactually.com.
David is joined in studio by Jacob as they discuss the latest in film and tech.
In tech news: Telstra boss Sol Trujillo has his mobile stolen by a pickpocket, Mr. Trujillo also states that he doesn't care what is best for customer he just wants to make money and Facebook backtracks on it's new terms.
Film news includes: no Ironman 2 for Mickey Rourke but he will work with Stallone, no Superman Reboot for the Wachowski's, no Ironman 2 for Eliza Dushku, a Jetsons live action film in the works for Robert Rodriguez and the Academy Award winners leaked…or have they?
In review, Jake and David review Oliver Stone's "W." and John Patrick Shanley's "Doubt". Both films are well received but Doubt is clearly the favourite.
Nicholas McVay (The Little Geek) joins David to discuss Apple's new iLife 09 suite of programs. To quote Little Geek, "Awesome!"
As always this episode carries an explicit tag due to possible bad language (There is very little in this episode!).
Listen or download it here or subscribe to it on iTunes
Podcast: Play in new window | Download
Show Notes:
Just a couple links to some things mentioned in the show.
A Picture of a great Dictator … Sorry I mean Sol Trujillo
The Leaked List of Academy Award Winners
The Trailer and Clip for Doubt
The Trailer for W.
Apple's iLife 09
Just a reminder, if you have any comments about the episodes please leave them in the comments field below or email us using the contact link above. If you are an iTunes user, please leave a review as we are trying to get on the featured list and every review helps. Your comments (good or bad) help us improve the show.
(This post edited 24th May, 2009)