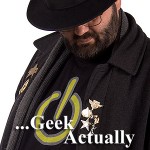 David McVay is joined in studio by Mirren Lee and Katrina Smith.
We have decided to skip the tech this week and have a film centric episode because of Apple's impending announcements next week. Next weeks show will probably be very tech heavy.
We have a discussion about black humour and how The Chaser's (an Australian comedy show) completely screwed up with it's parody of the Make-A-Wish Foundation. We discuss David Carradine's death and how badly it has been reported.
David and Katrina (with Mirren's help, even though she hasn't seen them) review the new film starring Russell Crowe, State of Play. We quite liked it, not perfect but a good throw back to films like All The President's Men, Absence of Malice or Three Days of the Condor.
Then we tear into McG's Terminator Salvation. This is a monumental mistake in almost every way. Spoiler Alert, we go into detail (as Katrina and I do) and discuss everything, including plot twists and the ending!
As always this episode carries an explicit tag due to small amounts of bad language.
Listen or download it here or subscribe to it on iTunes

Podcast: Play in new window | Download
Geek Actually is brought to you by listeners, just like you. Thanks for your donations. If you wish to make a donation, go to geekactually.com.
Just a reminder, if you have any comments about the episodes please leave them in the comments field below or email us using the contact link above. If you are an iTunes user, please leave a review as we are trying to get on the featured list and every review helps. Your comments (good or bad) help us improve the show.
Note: The show is going live on Ustream on the 27th of June. We will be broadcasting at 11am AEST (UTC+10) – More details in the coming weeks.