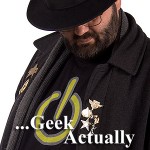 David McVay is joined via Skype by Katrina Smith
David starts the show off with some house keeping, including feedback from lisanne624 (you can find out more about her at http://www.angloaddict.com) and Robert from Newcastle, who recently got published. Also, a reminder about the new podcast feed at http://geekactually.com/feed/podcast/ – remember if you subscribe through iTunes, do nothing, the feed has already been changed there. If you use any other reader, change your feed now.
Tech News: Wrapping up the WWDC keynote, Australian Aboriginal Children get the OLPC, Microsoft's Bing overtakes Yahoo for search, Microsoft's free anti-virus software and Lego makes a digital camera and MP3 player.
Katrina joins us via Skype for the rest of the show and we discuss entertainment.
Entertainment news: Futurama returns to TV, Abrams and Cruise return to Mission: Impossible for a fourth film, Liam Neeson might be Hannibal in The A-Team movie and Matthew Fox spills a few secrets about the final season of Lost.
Katrina and David also discuss follow up stories on David Carradine's death and The Chaser's blunder that were discussed on last week's show. We also dig into Gordon Ramsay over his terrible behaviour while he has been here in Australia. His attacks on TV current affairs host Tracy Grimshaw and his lying about his mother. This leads us into talking about thuggish people.
Katrina reviews Night at the Museum 2 (apparently, we who live in Australia aren't smart enough to get the whole title), she tells us that it is a fun diversion and, although won't change the world, it is entertaining. David Reviews  I Love You Man and Sunshine Cleaning. I Love You Man is far better than the trailer would lead you to believe, carried on the strength of its two leading men it is a fun. This again is no Apatow film, but it passes the time very well. Sunshine Cleaning is a lovely, sweet drama/comedy that deals with family, loss and relationships in a grown up, mature way. It is touching and ultimately uplifting. It is highly recommended.
As always this episode carries an explicit tag due to small amounts of bad language.
Listen or download it here or subscribe to it on iTunes

Podcast: Play in new window | Download
Geek Actually is brought to you by listeners, just like you. Thanks for your contributions. If you wish to make a contribution, click the link on the main page.
Just a reminder, if you have any comments about the episodes please leave them in the comments field below or email us using the contact link above. If you are an iTunes user, please leave a review as we are trying to get on the featured list and every review helps. Your comments (good or bad) help us improve the show.
Note: The show is going live on Ustream on the 27th of June. We will be broadcasting at 11am AEST (UTC+10) – More details next week.