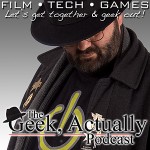 Hosts: David McVay, Josh Philpott and Dave Kozicki are joined by special guest Natali Del Conte (co-host of Buzz Out Loud)
The Geek Actually Podcast is recorded live on Ustream with chat interaction.
This week we have a very special guest, Natali Del Conte. Natali is a journalist for CBS and CNet and co-host of The Buzz Out Loud Podcast. Unfortunately, due to the time difference, we had to record Natali earlier in the day and her segment was played back during the show. She offered some interesting insights into our Great Internet Tech War of 2009 theory. Just a note, we had a pretty shaky Skype connection so please be patient with the audio quality. I'd like to again dedicate this week's show to the fine group of guys over at the Reel Junkies podcast which you can find on iTunes or at weekendronin.com. Check out their film podcast, I (David McVay) listen to it every week and they always entertain.
Game News This Week: 'Modern Warfare 2' breaks sales records, Project Natal gets a proposed release date and we have a little more info on the Xbox Live bannings.
The Great Internet Tech War of 2009: The Verizon Attack on AT&T continues and a Microsoft UK manager tells us what most people have always suspected – Windows 7 is based on the Mac OS!
Natali Del Conti's segment is here. We talk tech, Aliens and Avatar.
Tech News This Week: Are we seeing the end of the optical disc? Will it all be downloadable content in the near future? We offer our thoughts on this.
Entertainment News This Week: We discuss the new trailers for the films 'Clash of the Titans' and 'Kick-Ass', 'Avatar's' budget revealed, 'Battleship' gets aliens and Joss Whedon's 'Dollhouse' gets cancelled.
Our Feature Reviews: We review the new CG film '9', great design and weak story is the final verdict. David McVay reviews the new Zemeckis mo-cap CG film 'A Christmas Carol', not as bad as expected but still lacks heart.
Stay tuned after the end music as Nicholas 'the little geek' McVay joins David for his opinions on 'A Christmas Carol'.
This episode carries an explicit tag due to infrequent coarse language.
Listen or download it here or subscribe to it on iTunes
Podcast: Play in new window | Download
Geek Actually is brought to you by listeners, just like you. Thanks for your contributions. If you wish to make a contribution, go to the "Support Us" link above. A Special Note: We are still trying to raise money to send us to Melbourne to visit the set of a new Sci-Fi film being shot there. Help us to add some great content to the show and donate today.
Just a reminder, if you have any comments about the episodes please leave them in the comments field below or email us using the contact link above. If you are an iTunes user, please leave a review as we are trying to get on the featured list and every review helps. Your comments (good or bad) help us improve the show. You can contact us here.
The Geek Actually Podcast is recorded live on Ustream every Saturday Morning 11am Australian Eastern Daylight Savings Time (UTC+11). If you still just want to listen to the audio podcast, it will go out as normal on Sunday. Want to catch up with the video but missed the show on Saturday? Go to geekactually.com/live, the repeat runs all week.
'Platforms', the new gaming podcast is recorded live on Ustream on Monday night, 8pm Australian Eastern Daylight Savings Time (UTC+11). You can watch it at geekactually.com/platforms. The repeat will run all week at the same address. You can subscribe to the audio version on iTunes.