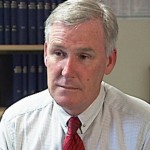 Kotaku has a very interesting letter online. South Australian Attorney-General Michael Atkinson was sent a letter by one of their readers (Robert) earlier this year asking about the R18+ rating for games in Australia. He was recently sent a reply from Mr. Atkinson and Kotaku has it.
If you follow the link above you can read highlights from Mr. Atkinson's letter, however I suggest you read the whole letter for full impact. You can download the scan of the letter here in PDF format.
Some of the juicier highlights include:
"What the present law does is keep the most extreme material off the shelves. It is true that this restricts adult liberty to a small degree, however, I am prepared to accept this infringement in the circumstances."
I don't know about you but I am not prepared to accept this infringement. Another highlight is:
"Classification of electronic games is very different from the classification of film. In cinemas, the age of movie-goers can be regulated… Rising game and console sales make it clear that this is a growing area that needs careful regulation, even more so than cinemas and private D.V.D. hire and purchase. Access to electronic games, once in the home, cannot be policed and therefore the games are easily accesible to children."
Do you think anyone has told the OFLC this? Games carry the same classification system as movies and if you download the guidelines from the OFLC, games and movies are referred to side by side. His argument is flawed because what stops a child from watching the R18+ DVD once it is in the home? Once again I come back to the same argument that I always stand by, hold the parents accountable! Once it is in the home it is the parent's responsibility to protect their children, not the government's.
We will discuss this letter in the Geek Actually Podcast this week (ep 61 21st Nov 2009). I'd love to hear what you think about it, comment below.