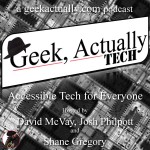 Hosts: David McVay, Josh Philpott and Shane Gregory
Geek Actually Tech is recorded live on Ustream with chat interaction.
The tech show by geeks for geeks and non-geeks. Accessible tech for everyone is the motto we live by. This weeks topic, iPad.
Tech News: iinet wins it's landmark piracy court case, Steve Jobs takes shots at Google and Adobe and The Internet is nominated for the Nobel Peace Prize.
Tech Opinion: This week our main discussion is Apple's new product, the iPad. Is it the must have device of 2010, ushering in the promised new world of portable computing? Or is it just another ho-hum gadget that is going to collect dust alongside the PSP Go, Apple's Newton, the scanner you were talked into buying with your computer, your VHS player or that foot spa you got for Christmas 5 years ago? In our discussion we look at tech specs, pricing, education, market research and most importantly, the features.
Listen or download it here. Subscribe with iTunes CLICK HERE
Podcast: Play in new window | Download
Geek Actually Tech is brought to you by listeners, just like you. Thanks for your contributions. If you wish to make a contribution, go to the "Support Us" link above.
Send feedback for this show to geektech@geekactually.com or leave us a voice mail message to play on the show at +61 02 8011 3167. If you are an iTunes user, please leave a review when the feed is established so we can build our audience. Your comments (good or bad) help us improve the show.
Join us on our Facebook Fan Page: facebook.com/GeekActually.
The Geek Actually Tech Podcast is recorded live on Ustream every Wednesday. We start at 8pmish Australian Eastern Daylight Savings Time (UTC+11). Want to catch up with the video but missed the show on Wednesday? The video replay is available here on geekactually.com, just search for replay.