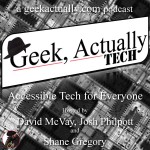 Hosts: David McVay, Josh Philpott and Shane Gregory
Geek Actually Tech is recorded live on Ustream with chat interaction.
The tech show by geeks for geeks and non-geeks. Accessible tech for everyone is the motto we live by. This weeks topic, Internet Censorship: Is the tide starting to turn?.
Tech News: Michael Atkinson (the South Australian Attorney General) has stated that gamers are scarier than motorcycle gangs. A recent Australian survey says that only 1 in 5 Australians look at internet porn – we call crap to these numbers. geekgasm! A missile is shot down by the first airborne laster – Star Wars here we come. And finally nerd Barbie is coming to a store near you, we offer an alternative :-) (see the bottom of this post for the two pictures)
Tech Opinion: This week we discuss the important issue of Internet Censorship. With Google threatening to pull out of China over censorship issues, does Australia really know what it is doing by trying to impose the Internet Censorship Filter? Does Senator Stephen Conroy read newspapers? One would think not with his quotes this week. Is the world ready to start opening up instead of locking down even further? We try and unravel some of these points in our main opinion section.
Listen or download it here. You can subscribe through iTunes by CLICKING HERE
Podcast: Play in new window | Download
Geek Actually Tech is brought to you by listeners, just like you. Thanks for your contributions. If you wish to make a contribution, go to the "Support Us" link above.
Send feedback for this show to geektech@geekactually.com or leave us a voice mail message to play on the show at +61 02 8011 3167. If you are an iTunes user, please leave a review when the feed is established so we can build our audience. Your comments (good or bad) help us improve the show.
Join us on our Facebook Fan Page: facebook.com/GeekActually.
The Geek Actually Tech Podcast is recorded live on Ustream every Wednesday. We start at 8pmish Australian Eastern Daylight Savings Time (UTC+11). Want to catch up with the video but missed the show on Wednesday? The video replay is available here on geekactually.com, just search for replay.