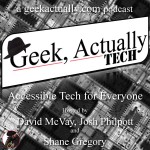 Hosts: David McVay and Shane Gregory
Geek Actually Tech is recorded live on Ustream with chat interaction.
The tech show by geeks for geeks and non-geeks. Accessible tech for everyone is the motto we live by. This weeks topic, The Tech of 3D Cinema. Here are the show notes for the episode.
Follow Up To Last Week:
Webcamgate continues with a court order
http://news.cnet.com/8301-17852_3-10459220-71.html?part=rss&subj=news&tag=2547-1_3-0-20
News:
Australian Prime Minister Kevin Rudd Won't Apologise for the Internet Censorship Filter.
http://www.zdnet.com.au/news/communications/soa/Rudd-We-won-t-apologise-for-filter/0,130061791,339301378,00.htm?feed=rss and
http://www.smh.com.au/technology/technology-news/net-filters-to-hit-social-networks-20100301-pbl6.html
Related to this is Senator Kate Lundy who is standing apart from the Labour party against the filter as planned.
http://www.theaustralian.com.au/politics/labor-split-as-kate-lundy-proposes-opt-out-to-conroy-isp-filter/story-e6frgczf-1225833745627
When is a story about the Apple iPad not a story about the Apple iPad
http://www.smh.com.au/digital-life/computers/apple-ipad-launch-may-be-delayed-analyst-20100302-pedh.html?autostart=1
Mix this with those life like Japanese robot girls and you get…creepy much!
http://news.cnet.com/8301-17938_105-10458796-1.html?part=rss&subj=news&tag=2547-1_3-0-20
Google acquires Picnik photo service, who cares. But read the last paragraph, is Google planning to take over the world?
http://www.news.com.au/technology/google-purchases-photo-editing-site-picnik/story-e6frfro0-1225835977584
Interesting, after all the talk about OLED, it would seem that the iPhone's backlit LED display is better than the Nexus 1's OLED screen.
http://crave.cnet.co.uk/mobiles/0,39029453,49305141,00.htm?s_cid=33&tag=mncol;txt
Topic of the Week: The Tech of 3D Cinema
A brief history of 3D cinema, how it works (then and now), the different systems used today and the difference between shooting in 3D and 3D conversion.
Here are a collection of links that we used to research the story.
http://en.wikipedia.org/wiki/3-D_film
http://www.guardian.co.uk/film/2009/aug/20/3d-film-history
http://www.televisions.com/tv-articles/TV-in-3D.php
http://www.slate.com/id/2243118/?from=rss
The Future: 3D Television?
http://en.wikipedia.org/wiki/3D_television
Is 3D TV bad for you?
http://www.abc.net.au/unleashed/stories/s2813511.htm
Listen or download it here. You can subscribe through iTunes by CLICKING HERE
Podcast: Play in new window | Download
Geek Actually Tech is brought to you by listeners, just like you. Thanks for your contributions. If you wish to make a contribution, go to the "Support Us" link above.
Send feedback for this show to geektech@geekactually.com or leave us a voice mail message to play on the show at +61 02 8011 3167. If you are an iTunes user, please leave a review when the feed is established so we can build our audience. Your comments (good or bad) help us improve the show.
Join us on our Facebook Fan Page: facebook.com/GeekActually.
The Geek Actually Tech Podcast is recorded live on Ustream every Wednesday. We start at 8pmish Australian Eastern Daylight Savings Time (UTC+11). Want to catch up with the video but missed the show on Wednesday? The video replay is available here on geekactually.com, just search for replay.