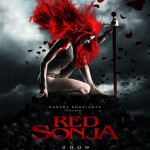 If you listen to the Geek Actually Podcast you will know that for the last two weeks we have been discussing the casting confirmations and rumours of the new 'Conan' remake directed by Marcus Nispel. So far we have Jason Momoa ('Stargate: Atlantis') cast as Conan, Ron Perlman ('Hellboy') as his father (replacing the rumoured Mickey Rourke) and Stephen Lang ('Avatar') looks to be confirmed as Khalar Singh, the bad guy of the piece.
However, in a new piece of casting, Rose McGowan ('Planet Terror') has been added to the cast as a rumoured evil half-human/half-witch character. The reason that this is odd is she was cast to play the title character in the Robert Rodriguez produced remake of Robert E. Howard's 'Red Sonja' (see the poster at the head of this post). Now she is cast in the 'Conan' remake, does this finally kill off the on again/off again production of 'Red Sonja'?
Details of the character that she is playing in 'Conan' are sketchy at this time, I am hoping (I think hopelessly) that she isn't playing the character mentioned above but instead is Red Sonja in some sort of crossover cameo to test run the character. I like the character of Red Sonja from the books and she deserves a better screen treatment than the awful 1985 Richard Fleischer  film starring Brigitte Nielsen.
'Conan' started filming this month and is scheduled for release in 2011.