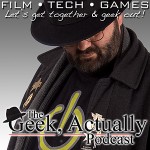 Hosts: David McVay, Josh Philpott and Brandon McClelland
The Geek Actually Podcast, your weekly dose of 'the week in geek'. This week we are joined by our new friend and aspiring actor Brandon McClelland. This week we re-introduce our tech section with a few unusual tech stories, and let's just say if you find these interesting, you are a geek. After our usual entertainment news section we review two films, one old and one new. First up, a listener request (thanks Popshot), we review the classic Robert Altman film 'M*A*S*H' and then we take a look at the new Matt Damon/Paul Greengrass film 'Green Zone'. Here are the links to our stories.
Watch us live at geekactually.com/live 12pm Saturdays (AEST UTC +11)
Tech News
Look out Harry Potter, you're not the only one with an invisibility cloak!
http://www.news.com.au/technology/researchers-create-3d-invisibility-cloak/story-e6frfro0-1225842645660
Forget touch screens, how about touch skin! Skinput is just around the corner.
http://www.news.com.au/technology/skinput-turns-humans-into-a-walking-touchscreen/story-e6frfro0-1225842249103
We can all relax, Apple doesn't own the letter 'i'
http://www.smh.com.au/digital-life/mp3s/apples-future-wont-be-brought-to-you-by-the-letter-i-20100312-q27r.html
For more deeper stories and more detailed tech news, listen to Geek Actually Tech. Recorded live on Wednesdays at 8pm AEDST and the podcast is available on iTunes Thursdays.
Entertainment News
Peter Graves Dies at 83
http://www.latimes.com/entertainment/news/la-me-peter-graves15-2010mar15,0,836018.story
Tim Burton to make a new 3D stop motion animated film – The Addams Family
http://www.deadline.com/2010/03/tim-burton-next-3d-animated-film-da-da-da-snap-snap-the-addams-family/
The new Predators sneak peak video – Watch it here
Conan news: Mickey Rourke out, Ron Perlman in. Check. Rose McGowan joins the cast…wait what about Red Sonja?
http://www.slashfilm.com/2010/03/14/conan-casting-ron-perlman-replaces-mickey-rourke-as-conans-dad-gi-joes-breaker-joins-cast/
and http://geekactually.com/2010/03/18/does-this-mean-red-sonja-is-now-officially-dead/
Joaquin Phoenix's meltdown is over apparently
http://movies.indiatimes.com/Gossip/Oscar-winning-Resul-signs-Joaquin-Phoenix-film/articleshow/5675203.cms

Watch Joaquin Phoenix's Letterman appearance (the video we watch) here.
The Hobbit is finally getting underway, shooting begins in July.
http://www.mckellen.com/cinema/index1.htm
The new Heavy Metal film not dead, not if James Cameron and David Fincher have anything to do with it.
http://www.slashfilm.com/2010/03/12/heavy-metal-isnt-dead-david-fincher-still-flogging-a-revamp-of-the-animated-anthology-with-james-cameron/
Film Reviews
'M*A*S*H' the classic 1970 Robert Altman anti-establishment/anti-war film based on the novel 'M*A*S*H' by Richard Hooker and starring Donald Sutherland, Elliott Gould, Sally Kellerman and Robert Duvall. The story of life on a mobile army hospital and the character's total disregard of authority during the Korean war. The film went on to spawn a TV series that lasted 10 years. The film was nominated for five academy awards (it won 1 for screenplay), nominated for six Golden Globes (it won best picture musical or comedy), nominated for five BATFA awards and it won the Palm d'or at Cannes. On top of that it won best director for Robert Altman at the Director's Guild Awards. An odd little film that still delivers it's message today even though it is showing signs of dating. Robert Altman's style was unique and visionary, no other film was like it when it came out.
'Green Zone' the new film by Paul Greengrass, starring Matt Damon, Greg Kinear, Brenden Gleeson, Amy Ryan and Khalid Abdalla. The plot, on discovering the intelligence on WMD sites is false, U.S. Army Chief Miller, with the help of CIA operative Martin Brown, goes rogue to discover the truth about the invasion of Iraq. Based loosely on the book 'Imperial Life in the Emerald City: Inside Iraq's Green Zone' by Rajiv Chandrasekaran. A disappointing film that plays with the facts and ultimately fails to deliver a punch in either the political intrigue or the action.
This episode carries an explicit tag due to infrequent coarse language.
Listen or download it here or subscribe to it on iTunes
Podcast: Play in new window | Download
Geek Actually is brought to you by listeners, just like you. Thanks for your contributions. If you wish to make a contribution, go to the "Support Us" link above.
Send feedback for this show to feedback@geekactually.com or leave us a voice mail message to play on the show at (Sydney number) 02 8011 3167. If you are an iTunes user, please leave a review as we are trying to get on the featured list and every review helps. Your comments (good or bad) help us improve the show.
Join us on our Facebook Fan Page: facebook.com/GeekActually.