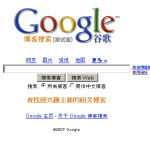 Well, we have been covering this for a few weeks on Geek Actually Tech and now it would seem that it is official, Google is leaving China. On last weeks show we reported that Google was about 99.9% sure it was going to leave china and now the Chinese media has made an announcement that Google will be packing up shop and leaving in April. The China Business News says Google is going through with it's threats and will be out of China on April 10th. At this time Google has yet to confirm this.
Google has been threatening to withdraw from China over censorship issues and the cyber attacks earlier this year.
At this time, Google has continued filtering search results on google.cn to comply with Chinese censorship demands but  Google has threatened to stop filtering.
Also on the podcast we talked about companies in China that have voiced concern about Google leaving and wanted possible compensation for lost income if the giant left. Google confirmed that it had received a letter supposedly from a group of 27 Chinese agencies claiming that they wanted to open talks with Google over compensation. However, several of the agencies have told the Associated Foreign Press they knew nothing of the letter. This has raised doubts over the authenticity of the letter and Google is now reviewing the letter.
As to the future of Google products (like the Nexus 1 phone) in China. All the stories so far about this have been about Google.cn, there doesn't seem to be an answer about other Google products yet. My guess is if they pull out of China, it will be a complete pull out.