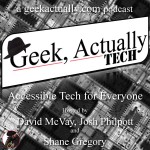 Hosts: David McVay, Josh Philpott and Denny Markovic
The tech show by geeks for geeks and non-geeks. Accessible tech for everyone is the motto we live by. This week's topic, 'Which computer is right for you? Part II – Desktop Machines'. We get Denny Markovic on Skype to help explain DirectX 11 and Open GL 4.0. Here are the show notes (links) for the episode. Geek Actually Tech is recorded live on Wednesday nights at 8pm (Australian eastern time). Go to geekactually.com/live to watch it live.
Follow Up To Last Week:
Denny Markovic (from PALGN) joins us via Skype to help explain Open GL 4.0 and DirectX 11.
http://news.cnet.com/8301-30685_3-20000277-264.html?part=rss&subj=news&tag=2547-1_3-0-20
iinet is defending against an appeal from the studios. iinet is confident that it will have an even stronger position after it wins it's the appeal.
http://www.news.com.au/technology/iinet-confident-it-will-defend-appeal-in-download-case/story-e6frfro0-1225842337689
News:
Google stops censoring the internet in China, kinda.
http://news.yahoo.com/s/ap/20100322/ap_on_hi_te/us_tec_google_china and
http://www.smh.com.au/technology/enterprise/google-ends-web-censorship-in-china-20100323-qrwi.html
…and China's response
http://www.news.com.au/technology/china-slams-google-over-web-censorship-move/story-e6frfro0-1225844186896
…and the search results are still censored.
http://www.smh.com.au/technology/enterprise/china-outsmarts-google-as-results-stay-censored-20100323-qtlf.html
What about Australia's plans to censor the internet? Tech giants (including Google, Yahoo and Microsoft) have submitted their comments now and the overall consensus…the filter is a bad idea.
http://www.smh.com.au/technology/technology-news/conroys-internet-censorship-agenda-slammed-by-tech-giants-20100323-qt83.html
…Google goes on to say that it could legitimise censorship around the world.
http://www.news.com.au/technology/australia-filter-could-legitimise-censorship-google/story-e6frfro0-1225844471349
…an interesting quote from Obama to give Senator Conroy pause…I hope.
http://news.yahoo.com/s/afp/20100322/pl_afp/uschinaitcompanyinternetgooglewhouse
If censoring the internet wasn't enough ClearPlay in the US now censors DVDs for you.
http://www.news.com.au/technology/clearplay-dvd-filters-to-censor-the-naughty-bits/story-e6frfro0-1225844577948
And finally, Bill Gates teams up with Toshiba to design next gen Nuclear reactor…because Gates doesn't have any history with things crashing.
http://www.news.com.au/technology/bill-gates-to-fund-reactor-research-says-report/story-e6frfro0-1225844342192
Here is the video of Gates demonstrating Windows 98's USB feature
Topic of the Week:
Which computer is right for you? Desktop edition.
http://news.yahoo.com/s/afp/20100318/tc_afp/usitinternetcomputersalesnpd
Listen or download it here. You can subscribe through iTunes by CLICKING HERE
Podcast: Play in new window | Download
Geek Actually Tech is brought to you by listeners, just like you. Thanks for your contributions. If you wish to make a contribution, go to the "Support Us" link above.
Send feedback for this show to geektech@geekactually.com or leave us a voice mail message to play on the show at (Sydney Number) 02 8011 3167. If you are an iTunes user, please leave a review when the feed is established so we can build our audience. Your comments (good or bad) help us improve the show.
Join us on our Facebook Fan Page: facebook.com/GeekActually.
The Geek Actually Tech Podcast is recorded live on Ustream every Wednesday. We start at 8pmish Australian Eastern Daylight Savings Time (UTC+11). Search the Geek Actually site for 'Replay' to find a replay of the live show.