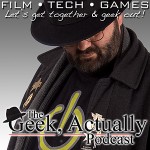 Hosts: David McVay, Josh Philpott and Ben O'Brien
The Geek Actually Podcast, your weekly dose of 'the week in geek'. This week we are joined by our new friend and writer Ben O'Brien. This week we welcome in the new South Australian Attorney-General John Rau, he supports the R18+ rating for games (that makes a change for SA). After the usual tech and entertainment news we review the new Jim Sheridan film 'Brothers'. Your show links follow. Ben O'Brien can be found hanging out at Studio Four.
Watch us live at geekactually.com/live 12pm Saturdays (AEST UTC +11)
Tech News
The new South Australian Attorney-General is John Rau and he is pro R18+!
http://au.pc.ign.com/articles/107/1079754p1.html
Apple bans screen protectors from the Apple Store – WTF!
http://news.yahoo.com/s/macworld/20100317/tc_macworld/applestorespurgingscreenprotection
Australians are starting to suffer Information Overload.
http://www.news.com.au/technology/aussie-love-affair-with-the-web-leads-to-info-overload/story-e6frfro0-1225844600459
Have we gone 3D crazy, Nintendo doesn't think we are mad enough yet.
http://www.news.com.au/technology/nintendo-to-launch-3d-capable-ds-console/story-e6frfro0-1225844569861
For more deeper stories and more detailed tech news, listen to Geek Actually Tech. Recorded live on Wednesdays at 8pm AEDST and the podcast is available on iTunes Thursdays.
Entertainment News
Sad news to start us off – The Hollywood sign is in jeopardy again. Why isn't it a protected national landmark yet?
http://www.cbc.ca/arts/film/story/2010/03/25/hollywood-sign-campaign.html
Buck Rogers is blasting back into cinemas in 3D, there is just one little problem…
http://www.deadline.com/2010/03/buck-rogers-blasts-off-into-3d/
From The Family Dog to The Simpsons to The Iron Giant to a pair of Pixar giants (The Incredibles to Ratatouille) – So what's next for animation god, director Brad Bird? How about Mission Impossible 4! WTF!!!!!
http://www.heatvisionblog.com/2010/03/incredibles-helmer-in-talks-to-direct-mission-impossible-iv-exclusive.html
We watch the new Scott Pilgrim vs The World trailer – Watch it here
I can't believe I'm saying this, 'I agree with Michael Bay!' Oh god, I can feel the universe beginning to implode on itself already!
http://www.deadline.com/2010/03/michael-bay-james-cameron-skeptical-of-3d-conversions-the-jury-is-out/
After weeks of discussion, we can finally put this one to bed – Chris Evans is Captain America!
http://www.heatvisionblog.com/2010/03/evans-accepts-captain-america-mantle.html
We watch the new 'Predators' trailer – Watch it here
Only real boobs excepted for the 4th Pirates film. About time Hollywood starts to see sense.
http://www.news.com.au/entertainment/movies/only-real-breats-will-do-for-capn-jack-pirates-director-bans-implants/story-e6frfmvr-1225843514449
Film Review
This week we review 'Brothers', the new film by Jim Sheridan, the man behind My Left Foot, The Field, In the Name of the Father and The Boxer. The film Stars Tobey Maguire, Jake Gyllenhael, Natalie Portman, Sam Shepard and Mare Winningham. Brothers is written by David Benioff based on the 2004 Danish film 'Brodre' written by Susanne Bier. Overall a really good film with superlative acting but let down by a badly structured script. Well worth watching though.
This episode carries an explicit tag due to infrequent coarse language.
Listen or download it here or subscribe to it on iTunes
Podcast: Play in new window | Download
Geek Actually is brought to you by listeners, just like you. Thanks for your contributions. If you wish to make a contribution, go to the "Support Us" link above.
Send feedback for this show to feedback@geekactually.com or leave us a voice mail message to play on the show at (Sydney number) 02 8011 3167. If you are an iTunes user, please leave a review as we are trying to get on the featured list and every review helps. Your comments (good or bad) help us improve the show.
Join us on our Facebook Fan Page: facebook.com/GeekActually.