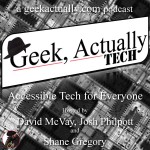 Hosts: David McVay, Josh Philpott and Shane Gregory
The tech show by geeks for geeks and non-geeks. Accessible tech for everyone is the motto we live by. No fixed topic this week, just a distilled version of the weeks news. However we really get into the tech of the Large Hadron Collider. Here are the show notes (links) for the episode. Geek Actually Tech is recorded live on Wednesday nights at 8pm (Australian eastern time). Go to geekactually.com/live to watch it live.
Follow Up To Last Week:
China blocks all Google search results. I could have seen this coming.
http://www.cnn.com/2010/TECH/03/30/google.china.block/index.html
News:
Hillary Clinton has made a speech about internet freedom that really strikes a punch at Australia's plans.
http://www.news.com.au/technology/us-questions-rudds-internet-filtering-plan/story-e6frfro0-1225846711163
and
http://www.thepunch.com.au/articles/us-concerns-on-stephen-conroy-isp-filter/
Senator Stephan Conroy hits back at Google's criticism
http://www.smh.com.au/technology/technology-news/government-goes-to-war-with-google-over-net-censorship-20100330-r9bp.html
And while we are at it, let's watch Conroy back peddle a little :-)
http://www.news.com.au/technology/banned-website-list-wont-be-made-public/story-e6frfro0-1225847193801
Second iPhone security flaw exposes lots of personal photos to the world.
http://www.news.com.au/technology/quip-app-security-hole-shares-private-photos/story-e6frfro0-1225847390250
This is the first FYI http://www.pcworld.idg.com.au/article/340868/iphone_falls_pwn2own_hacking_contest/
Sony is killing the Linux option from the PS3
http://news.cnet.com/8301-13506_3-10471356-17.html?part=rss&subj=news&tag=2547-1_3-0-20
Also on Gaming Console News, Xbox 360 USB Storage confirmed but there is a catch.
http://news.zdnet.com/2100-9595_22-408338.html
Are Google and Apple going to bury the hatchet?
http://gizmodo.com/5503004/steve-jobs-and-eric-schmidt-spotted-together-again-photos?skyline=true&s=i
However Apple may piss off Google again with this…
http://news.cnet.com/8301-17938_105-20001312-1.html?part=rss&subj=news&tag=2547-1_3-0-20
LHC is closer than ever to ending the earth – not! Let's explain the beast a little.
http://www.news.com.au/technology/large-hadron-collider-a-little-closer-to-higgs-boson-answer-after-record-collisions/story-e6frfro0-1225847735982
I've heard the internet blamed for a lot of things but is Facebook really responsible for this?
http://www.smh.com.au/technology/technology-news/facebook-linked-to-rise-in-syphilis-20100326-r17y.html
Listen or download it here. You can subscribe through iTunes by CLICKING HERE
Podcast: Play in new window | Download
Geek Actually Tech is brought to you by listeners, just like you. Thanks for your contributions. If you wish to make a contribution, go to the "Support Us" link above.
Send feedback for this show to geektech@geekactually.com or leave us a voice mail message to play on the show at (Sydney Number) 02 8011 3167. If you are an iTunes user, please leave a review when the feed is established so we can build our audience. Your comments (good or bad) help us improve the show.
Join us on our Facebook Fan Page: facebook.com/GeekActually.
The Geek Actually Tech Podcast is recorded live on Ustream every Wednesday. We start at 8pmish Australian Eastern Daylight Savings Time (UTC+11). Search the Geek Actually site for 'Replay' to find a replay of the live show.
And finally, here is the picture of Stephen Conroy that made us giggle so much on the show. You tell me if he doesn't look like he is trying to rule the world :-)