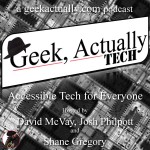 Hosts: David McVay, Josh Philpott and Shane Gregory
The tech show by geeks for geeks and non-geeks. Accessible tech for everyone is the motto we live by. First off, an apology for last week, David was ill so the show was cancelled at the last minute but we are back. A slightly different show this week, we have no fixed structure just an open discussion about the release of the iPad, good or bad. Geek Actually Tech is recorded live on Wednesday nights at 8pm (Australian eastern time). Go to geekactually.com/live to watch it live.
As there was no news section this week, we have no real links for you. The Apple videos we showed can be found on apple.com in the iPad section. The two Steve Jobs keynote speeches that we played parts of can be found on iTunes, just search for 'Apple Keynote' in the podcast section.
Listen or download the podcast here or you can subscribe through iTunes by CLICKING HERE
Podcast: Play in new window | Download
Geek Actually Tech is brought to you by listeners, just like you. Thanks for your contributions. If you wish to make a contribution, go to the "Support Us" link above.
Send feedback for this show to geektech@geekactually.com or leave us a voice mail message to play on the show at (Sydney Number) 02 8011 3167. If you are an iTunes user, please leave a review when the feed is established so we can build our audience. Your comments (good or bad) help us improve the show.
Join us on our Facebook Fan Page: facebook.com/GeekActually.
The Geek Actually Tech Podcast is recorded live on Ustream every Wednesday. We start at 8pmish Australian Eastern Daylight Savings Time (UTC+11). Search the Geek Actually site for 'Replay' to find a replay of the live show.