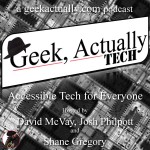 Hosts: David McVay, Josh Philpott and Shane Gregory
The tech show by geeks for geeks and non-geeks. Accessible tech for everyone is the motto we live by. This is the season final for Geek Actually Tech, for your tech news needs check out our main show, The Geek Actually Podcast. This week we discuss the lost/stolen iPhone 4G prototype and we revisit the Webcamgate story about the Lower Marion School District and their use of spy cameras on students. Geek Actually Tech was recorded live on Wednesday nights at 8pm (Australian eastern time). For your future tech news and everything else geeky, The Geek Actually Podcast can be seen at 12pm (Australian Eastern Time) Saturdays and on iTunes.
Follow Up From Previous Shows
Remember the one about the school using it's laptops to spy on it's students? Well, now the case is in court and a few new details have arisen.
http://arstechnica.com/tech-policy/news/2010/04/school-it-allegedly-took-thousands-of-pics-in-webcam-case.ars?utm_source=rss&utm_medium=rss&utm_campaign=rss
and
http://www.philly.com/philly/news/20100415_Lawyer__Laptops_took_thousands_of_photos.html
News
The Royal Shakspeare Company Tweets out a modern day Romeo and Juliet.
http://www.news.com.au/technology/parting-is-such-tweet-sorrow-romeo-and-juliet-get-twitter-treatment/story-e6frfro0-1225852973915
Steve Jobs, Morals Cop!
http://techcrunch.com/2010/04/19/steve-jobs-android-porn/
Gizmodo thinks it has found an iPhone 4G
http://gizmodo.com/5520438/how-apple-lost-the-next-iphone
and Apple wants it back!
http://www.news.com.au/technology/gizmodo-has-iphone-4g-lost-in-bar/story-e6frfro0-1225855772273
and the letter
http://gizmodo.com/5520479/a-letter-apple-wants-its-secret-iphone-back
Something I think we all knew already, Brain Training games are bogus.
http://www.news.com.au/technology/study-finds-brain-training-games-dont-work/story-e6frfro0-1225856227653
Ubisoft dumping manuals on console games.
http://news.cnet.com/8301-27076_3-20002863-248.html?tag=mncol;txt
Food for thought, your secrets could be public. Digital Photocopiers remember.
http://www.cbsnews.com/stories/2010/04/19/eveningnews/main6412439.shtml?tag=mncol;txt
Listen or download the podcast here or you can subscribe through iTunes by CLICKING HERE
Podcast: Play in new window | Download
Geek Actually Tech is brought to you by listeners, just like you. Thanks for your contributions. If you wish to make a contribution, go to the "Support Us" link above.
Send feedback for this show to geektech@geekactually.com or leave us a voice mail message to play on the show at (Sydney Number) 02 8011 3167. If you are an iTunes user, please leave a review when the feed is established so we can build our audience. Your comments (good or bad) help us improve the show.
Join us on our Facebook Fan Page: facebook.com/GeekActually.
The Geek Actually Tech Podcast is recorded live on Ustream every Wednesday. We start at 8pmish Australian Eastern Daylight Savings Time (UTC+11). Search the Geek Actually site for 'Replay' to find a replay of the live show.