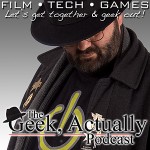 Hosts: David McVay, Josh Philpott, Dave Kozicki, Shane Gregory & Nicholas McVay
The Geek Actually Podcast, your weekly dose of 'the week in geek'. This week David McVay and Josh Philpott are joined by a returning old friend, Dave Kozicki and Shane Gregory flash back to the 80's for a review of the new comedy 'Hot Tub Time Machine'. We also take a look at news highlights from the tech and entertainment industries. Plus as a bonus, at the end of the episode stay listening for the audio version of the new bi-weekly show, The Little Geek Show starring David McVay and Nicholas McVay. This week the geeks (big and small) review 'How to Train Your Dragon'. The Little Geek Show can seen right here on geekactually.com or on YouTube every two weeks. Your show links follow.
Watch us live at geekactually.com/live 12pm Saturdays (AEST UTC +10)
Tech News
I just love McAfee antivirus, don't you?
http://www.smh.com.au/technology/enterprise/botched-antivirus-knocks-out-10-of-coles-registers-20100422-teif.html
Apple is now a bigger company than Microsoft according to S&P! Who could have seen this coming?
http://www.news.com.au/technology/microsoft-cries-foul-as-sp-500-lists-apple-as-new-tech-frontrunner/story-e6frfro0-1225857293121
Forget that Brain Training stuff, violent games like Call of Duty will make you smarter! Hell yeah!!!! Do you think Michael Atkinson has seen this?
http://www.thesun.co.uk/sol/homepage/news/2944067/Video-games-good-for-brain.html?OTC-RSS
Wow, how did those words feel coming out of your mouth Mr. Gates?
http://www.news.com.au/technology/steve-jobs-says-androids-are-for-porn-bill-gates-says-ipads-are-okay/story-e6frfro0-1225856811510
The iPad could cost you an arm and a leg…well, maybe a finger.
http://www.news.com.au/technology/thief-takes-off-with-mans-ipad-finger/story-e6frfro0-1225856283765
We all know Modern Warfare 2 was super successful, but now it is official
http://www.news.com.au/technology/modern-warfare-2-sets-guinness-world-record/story-e6frfro0-1225856982380
Entertainment News
It's been too long, but David can finally say it again…"In Green Hornet news!!!!!"
http://www.slashfilm.com/2010/04/22/the-green-hornet-pushed-back-to-2011-will-be-released-in-3d/
Arthur remake is a go project, Helen Mirren may be cast as Russell Brand's nanny.
http://www.hollywoodreporter.com/hr/content_display/film/news/e3i3c46fd70101741ed16e3c3e0090725f1
watch the clip from the original that we played live
http://www.youtube.com/watch?v=aSZgsIpj0uo&feature=related
Well, now here is a stellar idea, let's replace Angelina Jolie as the female lead in Wanted 2 with Kristen Stewart!
http://ca.eonline.com/uberblog/b177547_kristen_stewart_replacing_angelina_jolie.html
I'm kinda bummed that the Downfall parodies are being killed.
http://www.smh.com.au/technology/technology-news/downfall-of-hitlers-youtube-parody-20100421-stw2.html
watch one here, while they last http://www.youtube.com/watch?v=McsAFBqQgio
Things change in 4 years, we get a new president in the White House, a new Prime Minister in Parliament and David Goyer seems to have learnt how to write Superman.
http://www.slashfilm.com/2010/04/19/david-goyer-in-2006-explains-why-he-wouldnt-ever-be-good-to-write-superman/
Samuel L. Jackson has a rumoured 9 picture deal with Marvel but he isn't in Thor, WTF!
http://www.iesb.net/index.php?option=com_content&view=article&id=9106:sam-jackson-not-appearing-in-thor-confirms-avengers-start-date&catid=41:news&Itemid=71
Shit, it's real and it is happening! Escape from New York remake gets a remake's director.
http://www.heatvisionblog.com/2010/04/breck-eisner-directing-escape-from-new-york.html
For Josh, a new Nightmare on Elm Street clip has been released.
http://www.slashfilm.com/2010/04/21/new-clips-robin-hood-and-a-nightmare-on-elm-street/
New Bond film halted indefinitely due to MGM financial problems.
http://www.slashfilm.com/2010/04/19/development-on-bond-23-suspended-indefinitely-mgm-woes-to-blame/
We give the Vulcan salute as Leonard Nimoy retires from acting, live long and prosper Mr. Nimoy.
http://www.slashfilm.com/2010/04/21/leonard-nimoy-to-retire-from-acting/
Film Review
This week we review 'Hot Tub Time Machine' the new comedy by Steve Pink (director of the Justin Long comedy 'Accepted'). The film was written by Josh Heald, Sean Anders & John Morris and stars John Cusack, Craig Robertson, Rob Corddry, Clarke Duke, Lizzie Caplan, Lyndsy Fonseca, Crispin Glover and Chevy Chase. For a synopsis, what can you say? It is about four dudes who hop in a hot tube that transports them back to relive 1986. Hilarity ensues. Watch the trailer http://www.kicksomepast.com/
What did we think? We all enjoyed the film to different degrees. Although no masterpiece of cinema, it is a funny film and definitely much better than expected, based on the trailer. The film is a nice ode to the 80's and if you were there then you'll get a chuckle here and there as the film pretty faithfully recreates the era. If you are willing to disengage your brain and go for the nonsensical ride, you'll enjoy. If you can't turn off the critical mind, stay clear.
This episode carries an explicit tag due to infrequent coarse language.
Listen or download it here or subscribe to it on iTunes
Podcast: Play in new window | Download
Geek Actually is brought to you by listeners, just like you. Thanks for your contributions. If you wish to make a contribution, go to the "Support Us" link above.
Send feedback for this show to feedback@geekactually.com or leave us a voice mail message to play on the show at (Sydney number) 02 8011 3167. If you are an iTunes user, please leave a review as we are trying to get on the featured list and every review helps. Your comments (good or bad) help us improve the show.
Join us on our Facebook Fan Page: facebook.com/GeekActually for information on the Unofficial Geek Actually Movie Club screening times.
Catch the after show we recorded on Wednesday on the same feed as this show. We get Dave Kozicki's take on Kick-Ass and we get Brad Anderson (from the Movie Fan House Podcast) on Skype.
(Edit: 26/4/2010 – a new version of the the mp3 has been put on the feed, the sound quality on the original file was awful. Hopefully this is better.)