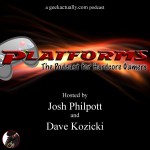 Josh Philpott and Nathan Lawrence (with David 'Beardy' McVay & Shane Gregory)
Platforms is a gamers podcast by gamers. The podcast is recorded live on Ustream with chat interaction so come and join the fun as your host candidly discuss the latest in the gaming world. The podcast is uncensored, explicit, honest and very non 'PC'. Dave Kozicki is in France this week so Nathan Lawrence returns to fill his seat this week. We kick off this week with the trailer for 'Splnter Cell: Conviction', this week's feature review. Due to Ustream dropping the ball this week, there was no live show, we recorded the audio show only.
Because there was no live feed, show notes are slightly different this week, here are the links to the stories that we talked about so you can see any of the pictures or videos we reference through out show.
Metroid:Another M Delayed
http://www.gametrailers.com/news/metroid-other-m-delayed/2006
Just Cause 2 DLC announced
http://www.gametrailers.com/news/just-cause-2-dlc-announced/2007
Rockstar's strange bribe.
http://www.vg247.com/2010/04/24/uk-download-rdr-trailer-get-400-ms-points/
Mechwarrior 4 for free? hmm.
http://au.gamespot.com/news/6259454.html?tag=sidebar%3Btitle%3B1
Alpha protocol video
http://www.vg247.com/2010/04/24/alpha-protocol-video-so-much-for-the-vodka/
Halo Reach collectors announced
http://au.gamespot.com/news/6259782.html?om_act=convert&om_clk=newstop&tag=newstop%3Btitle%3B5
New Teaser for marvel vs Capcom 3 … ffffuuuccckk!
http://au.gamespot.com/events/captivate10/story.html?sid=6259100&tag=newstop;title;19
Coming Soon Titles: 'Super Street Fighter IV', 'Monster Hunter Tri', Red Dead Redemption' and 'Lost Planet 2' (here is the link to see the very odd collector's set we talked about http://www.ebgames.com.au/ps3-149957-Lost-Planet-2-Collectors-Edition-PlayStation-3)
Review of the Week: This week, Josh, Nathan and Shane review 'Splinter Cell: Conviction'.
Want to leave a voice mail? Call 02 8011 3167.
Quick shout outs to our friends at Game Pron, Oxcgn, Australian Gamer Podcast and The Game Arena Podcast
This episode carries an explicit tag due to frequent coarse language and adult themes.
Listen or download it here or subscribe to it on iTunes.
Podcast: Play in new window | Download
Platforms is brought to you by listeners, just like you. Thanks for your contributions. If you wish to make a contribution, go to the "Support Us" link above. Platforms swag can be purchased at cafepress.com.au/geekactually.
Send feedback for this show to platforms@geekactually.com. If you are an iTunes user, please leave a review as we are trying to get on the featured list and every review helps. Your comments (good or bad) help us improve the show. You can contact us here. Make sure you join our Facebook Page at facebook.com/PlatfromsLive (yes it is mis-spelt on purpose)
The Platforms Podcast is normally recorded live on Ustream every Monday Evening 8pm Australian Eastern Time (UTC+10).