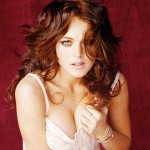 Lindsay Lohan has just been cast to play 70's porn star Linda Lovelace in the independent biopic 'Inferno'. Up until now this has been circulating the rumour mill but it has now been confirmed by producer Wali Razaqi and the official announcement will be made for foreign distributors and investors at the upcoming Cannes Film Festival. Lohan herself may even appear at Cannes for the annoucement.
The film is based on the real life events in Lovelace's life, the drama will deal with the difficulties she went through in her life and overcame. Bill Pullman has also been cast in the film as Hugh Hefner.
Razaqi told the LA Times "I would say it's probably one of the most challenging roles any actor could play — and not because of the sexual content, necessarily — but more because she was so battered and beat up emotionally, that I think it's gonna take everything Lindsay has to really be able to pull it off. Not that Lindsay's life is similar in any way – but she's been through a lot of ups and downs. A lot of times you're loved and then you're hated, and I think she can relate to those emotions and feelings. One week she's the 'it' girl, and the next, she's the 'what are you doing?' girl."
I find this new exciting a) because I am fascinated by the adult film industry and the people in it (I really hope the film isn't just a porn industry beat up) and b) I actually think that Lindsay Lohan is a very good actress who makes some very bad film choices. I thought she was very good in the mediocre film 'Georgia Rule'.
It has to also be said that with all the wild child crap that she does, she should be able to dig deep to get in touch with the Lovelace character. Also, this is not a role for a timid actor but lately Lohan hasn't been shy in photoshoots. She recently shed her clothes to do a shoot recreating a famous Marilyn Monroe shoot (you can see a couple of the photos here, but they are not safe for work) so nudity shouldn't be an issue.
Although, when Lohan played a stripper in the awful 'I Know Who Killed Me', she never took her clothes off, this is a real reality deal breaker, like seeing a sex scene where the female lead never takes her bra off or when one of the couple gets up right after sex and they have their underwear on. It just kills the authenticity of a scene. If you are going to make a film about the porn industry, you are going to have to show some skin – male and female. A film that handled the balance perfectly was P.T. Anderson's 'Boogie Nights', a truly great film about the adult film industry and set in the 70's, the same time period as Linda Lovelace's career.
I am very interested to see this film, I really hope it doesn't fall through. What do you think?
source: LA Times
Updated 10th November 2011 – To read an update to this story go to http://geekactually.com/2011/11/09/amanda-seyfried-cast-in-lovelace-is-hollywood-ready-for-two-linda-lovelace-films/