This is just a quick one to let the fans know that the final one sheet for 'The Last Airbender' has now been released and you can see it below (click the image for a much larger view).
I like it except I think it needs more colour. I have been saying since the first teaser came out that I think M. Night Shyamalan has cut all the humour from the source material and this poster seems to confirm that.
I still want to see the film but I have a bad feeling deep in my gut about it. Also, I will not be seeing this movie in it's up converted 3D state, I'll see it in it's original 2D format.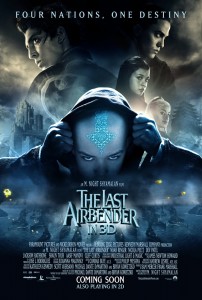 The poster originally premiered at /Film.