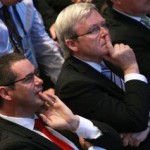 For over a year we have been harping on about The Australian Internet Censorship Filter, and finally there is light at the end of the tunnel. The Australian newspaper reported last week that The Rudd Government is sitting on the policy for the moment and would not introduce the policy in this month's or June's sitting of parliament. This was confirmed by a spokesperson for the Communications Minister Stephen Conroy. After that there is not another sitting of parliament until August, which will probably be the last sitting before the election. This means there is a very good chance that the policy will not be introduced until after the election, if at all. Hooray!
Now, before we start patting ourselves on the back and thinking that this all over, they didn't say that they are dropping it all together, they are just delaying it. I think that the huge number of people who signed the introduction of an R18+ rating for games petition (89,000 signatures) plus the petition to stop internet censorship (126,189 signatures) by GetUp.org.au has started to make the government nervous. Each of those signatures could equate to a lost vote!
The government retreating on this issue is a minor victory, as it shows that the Rudd government is a little nervous about losing votes over this policy, a policy that they insist everyone wants but was countered by the petition from GetUp.org.au.
GetUp.org.au has produced the video below to continue this campaign, help it go viral. Spread it around, make sure everyone is aware of this anti-censorship campaign. The only people who are qualified to protect the children are their parents! Don't let us become an over protective nanny state.
Last thing: GetUp.org.au just sent out an email that say this "Tune in to the ABC tonight to see the efforts of GetUp members in the campaign against internet filtering. At 8.30pm, Four Corners covers the campaign and at 9.35pm, Q&A explores internet censorship, featuring former GetUp National Director, Brett Solomon." I'll be watching.