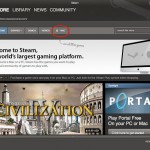 Steam, Valve's online gaming service, is now available for Macintosh computers. The public beta was released today and Valve is considering the Mac a tier 1 Platform. Tier 1 means that Valve games (Half-Life, Left 4 Dead etc.) will be released on both platforms (PC and Mac) simultaneously. Currently Valve only has Portal and Team Fortress available from their catalogue. There are only a few Mac titles available for the beta but this should change quickly.
The big news for gamers is that until May 24th, Valve's game Portal is free for both PC and Mac! So grab a copy of Steam for Mac and make your first game this excellent puzzle game from Valve.
Below is a list of games currently available for Mac through Steam. Steam will be completely platform agnostic. If you purchase a game (either on PC or Mac), you can download both versions. I already owned the PC version of Torchlight, and I just pulled the Mac version today, no drama.
Mac Games on Steam (as of May 13th 2010):
And Yet It Moves
Atlantis Sky Patrol
Bejeweled 2 Deluxe
Bob Came in Pieces
Bookworm Deluxe
Braid
Brainpipe
Chocolatier: Decadence by Design
Chuzzle Deluxe
City of Heroes: Architect Edition
Civilization IV: The Complete Edition
Cooking Dash
Diaper Dash
The Dig
Diner Dash: Hometown Hero
DinerTown Detective Agency
DinerTown Tycoon
Dream Chronicles: The Chosen Child
Escape Rosecliff Island
Fairway Solitaire
Fitness Dash
Football Manager 10
Galcon Fusion
Gemini Lost
Guns of Icarus
Hotel Dash Suite Success
Indiana Jones and the Fate of Atlantis
Indiana Jones and the Last Crusade
KrissX
Loom
Luxor
Luxor 3
Luxor: Mahjong
Machinarium
Mahjong Roadshow
Max and the Magic Marker
My Tribe
The Nightshift Code
Nightshift Legacy: The Jaguar's Eye
Parking Dash
Peggle Deluxe
Peggle Nights
Portal
Professor Fizzwizzle and the Molten Mystery
Quantz
Sam & Max: The Devil's Playhouse
Tales of Monkey Island Season 1
Toki Tori
Torchlight
Trijinx: A Kristine Kross Mystery
Unwell Mel
Valarie Porter and the Scarlett Scandal
Wandering Willows
Wedding Dash 2: Rings Around the World
World of Goo
Zenerchi
Zuma Deluxe