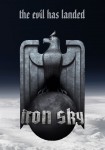 Well, I can't say I saw this one coming. In the Mel Brooks film History of the World Part 1 (no, there was never a part 2, that was also a joke) there was a small skit called Jews in Space and for me one of the films funniest moments.
All I can say is move over Mr. Brooks, a new independent film is in production called Iron Sky and it is coming to invade your airspace. It is a comedy sci-fi about Nazis on the moon who are now ready to invade the earth for total domination of the world. Still with me?
Here is the official synopsis of the film:
Iron Sky is a scifi movie that takes place in the year 2018, when the Nazis, who fled the Earth to the dark side of the Moon in 1945, return to claim the Earth. The film is a Finnish-German co-production, filmed mainly in English, with a budget of 6.5 million euros. It's directed by Timo Vuorensola and produced by Tero Kaukomaa (Blind Spot Pictures), Samuli Torssonen (Energia Productions) and Oliver Damian (27 Films Production), with a screenplay is written by the acclaimed sci-fi writer Johanna Sinisalo (Nebula Award nominee 2009, Finlandia 2000) and Michael Kalesniko (Private Parts). The cast includes Julia Dietze (1½ Ritter), Götz Otto (Schindler's List, The Downfall), Tilo Prückner (The Neverending Story, Die Fälscher) and Udo Kier (Dogville, Dancer in the Dark). Source: /Film
From what sounds to be the most stupid premise I've ever heard of comes this new teaser trailer for a film that still hasn't actually started main production yet. For those that have been following me for awhile now, you should know what is coming … wait for it … I can't wait to see this friggin' movie!!!! It's Nazis in space! Enjoy the trailer, the film may never get released here but we can dream. If there is anyone out there who is at all related to this film, come and talk with us, love to interview you guys and girls.
What did you think? Comment below.