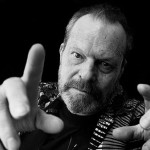 Here we go again, Terry Gilliam's next film will be 'The Man Who Killed Don Quixote'. If this sound familiar that is because he tried to shoot it back in 2000 with disastrous results. All of this was well documented in the documentary 'Lost in La Mancha', a brilliant film in it's own right.
This time around, Gilliam has a smaller budget ($20 Million as opposed to the $35 million last time) and a new cast. Jean Rochefort was the original's Don Quixote, this time Robert Duvall will take on the character and now it has been announced that Ewan McGregor will be filling the role that was originally played by Johnny Depp. Depp was still supposed to play the role but scheduling conflict have arisen, so he is now unavailable.
You've got to give it to Gilliam, the man has a dream and he has been chasing it tenaciously for years. I can't help but feel that this film is his windmill.
The plot to the film has the Ewan McGregor character (originally an ad exec but that may have changed in rewrites) become unstuck in time and he ends up meeting Don Quixote who thinks he is Sancho Panza.
Will Gilliam get the film together this time? I kind of hope so because then maybe he can finally lay this project to rest.
What do you think? Does a Terry Gilliam project excite you? Comment below.
source: Empire
If you haven't seen it, buy Lost in La Mancha
here, it is a really excellent film.