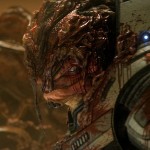 I'm going to get this out of the way right up front, DON'T FUCK THIS UP!
Okay, I feel better now. So the news today has Legendary Pictures acquiring the rights to the fantastic computer game series, 'Mass Effect'. This is probably one of my favourite games and on the one hand I would love to see big budget super movies made out of these games, on the other hand games don't generally make very good movies (there are rare exceptions).
Legendary is an interesting company that has made some decent movies, 'Batman Begins', 'The Dark Knight', 'Watchmen', '300' and  'Trick 'r Treat' to name a few, but they also have a few dudes on the books too, including '10,000 BC', 'Ninja Assassin', 'Lady in the Water', 'Clash of the Titans' (the remake) and 'Beerfest'. A lot will depend on who they hire to shepherd the project in (they have 'Warcraft' coming up directed by Sam Raimi and 'Inception' directed by Christopher Nolan) and that hasn't been announced yet. We do know that the screenplay will be written by Mark Protosevich ('Thor', 'I Am Legend') and the film will be produced by Avi Arad (formerly of Marvel) and Ari Arad.
I am excited and nervous all at the same time, please Legendary, try and make these work.
If you haven't played the BioWare games 'Mass Effect' or 'Mass Effect 2', what are you waiting for? No seriously, what are you waiting for!
Here is the official synopsis for 'Mass Effect' from BioWare:
The galaxy is trapped in an endless cycle of extinction. Every 50,000 years, an ancient machine race invades the galaxy. With ruthless efficiency, the machines wipe out all advanced organic civilization. They leave behind only the scattered ruins of technology, destroying all evidence of their own existence.

Few believe this ancient legend. You, however, know it to be true. The fight to stop this extinction event has become the most important mission in the galaxy.

It is your mission. As Commander Shepard of the SS Normandy, you will take your elite recon squad across a galaxy in turmoil, in a desperate race to stop the return of an enemy without mercy. To stop this enemy, you must act without remorse, without hesitation, and outside the limits of the law. Your only imperative is to preserve the safety of civilized life in the galaxy – at any cost. You must become the tip of the spear of humanity, for you alone know the full extent of what is at stake if you should fail.
And here is the official synopsis for Mass Effect 2 from BioWare:
Two years after Commander Shepard repelled invading Reapers bent on the destruction of organic life, a mysterious new enemy has emerged. On the fringes of known space, something is silently abducting entire human colonies. Now Shepard must work with Cerberus, a ruthless organization devoted to human survival at any cost, to stop the most terrifying threat mankind has ever faced.

To even attempt this perilous mission, Shepard must assemble the galaxy's most elite team and command the most powerful ship ever built. Even then, they say it would be suicide. Commander Shepard intends to prove them wrong.
Exciting! Now go play.
Source: The Hollywood Reporter