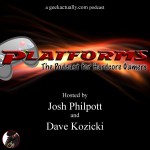 Josh Philpott and Dave Kozicki (with David 'Beardy' McVay)
Platforms is a gamers podcast by gamers. The podcast is recorded live on Ustream with chat interaction so come and join the fun as your host candidly discuss the latest in the gaming world. The podcast is uncensored, explicit, honest and very non 'PC'. We kick off this week with the crappy trailer for 'Lost Planet 2', this week's feature review.
Josh and Dave have established a new home on the net, you can find out everything you need to know by going to rawdlc.com. Your show links follow.
This Week's News:
'Killzone 3' first looks?
http://www.gametrailers.com/news/killzone-3-revealed-playable/2086
http://au.gamespot.com/pages/forums/show_msgs.php?topic_id=27322649&page=0
PS3 WTF?
http://www.vg247.com/2010/05/23/ps3-version-of-section-8-takes-user-to-live-marketplace/
'Sonic 4' delayed
http://au.gamespot.com/news/6263169.html?tag=latestheadlines%3Btitle%3B2
Midway is liquidated
http://www.rawdlc.com/?p=369
'Fable 3' Collectors Edition – already?)
http://au.gamespot.com/news/6263210.html?tag=latestheadlines%3Btitle%3B1
'Mass Effect 2' DLC
http://epicbattleaxe.com/mass-effect-2-dlc-to-bridge-story-to-mass-effect-3/
Coming soon: 'Alpha Protocol', 'Split Second', 'UFC: Undisputed 2010' and 'Demon's Souls'
Review of the Week: This week, Josh and Dave review the new sequel 'Lost Planet 2' from Capcom. The game is very poorly received, general consensus: Do not buy this game!
Want to leave a voice mail? Call 02 8011 3167.
Quick shout outs to our friends at Game Pron, Oxcgn, Australian Gamer Podcast and The Game Arena Podcast
This episode carries an explicit tag due to frequent coarse language and adult themes.
Listen or download it here or subscribe to it on iTunes.
Podcast: Play in new window | Download
Platforms is brought to you by listeners, just like you. Thanks for your contributions. Platforms swag can be purchased at cafepress.com.au/geekactually.
Send feedback for this show to feedback@rawdlc.com. If you are an iTunes user, please leave a review as we are trying to get on the featured list and every review helps. Your comments (good or bad) help us improve the show. Make sure you join our Facebook Page at facebook.com/PlatfromsLive (yes it is mis-spelt on purpose)
The Platforms Podcast is normally recorded live on Ustream every Monday Evening 8pm Australian Eastern Time (UTC+10).