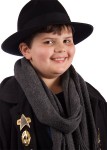 Just a quick note to say happy birthday to the network's "The Little Geek" (who also happens to be my son) Nicholas McVay. Nicholas is 11 today.
In his 11 years Nicholas has been through a lot, in 2005 Nicholas was diagnosed with leukaemia (A.L.L.) and we have gone through 5 years of treatment and clinics. When he was 8 he was having trouble with school, he just couldn't seem to get his head around reading or learning in general. We had him tested at two different places and he was diagnosed with severe learning difficulties and we were told he would never grow out of it. They told us he will have to find different ways of learning. Well, we changed school and he repeated grade 2 and he had two wonderful teachers in a row and now he is reading and making movies. In last year's grade 3 standards tests, he was at grade 3 average level. What do experts know :-)
Nicholas is now happy in school (a few small issues with maths, but this is apparently a known side effect of cranial radiation) and he is completely off treatment, and except for a small cold at the moment, he is in good health. This year's birthday is a special one, in August it will be 5 years since his cancer diagnoses and he will be considered cured at that time.
So all my best to my beautiful boy.
50% of all donations taken today will go to Nicholas as a birthday present so he can buy stuff for his movie making.