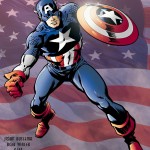 AICN has posted up some concept renders of Chris Evans ('Fantastic Four', 'The Losers') as Captain America in his costume that are apparently confirmed as real.
I have been very concerned about Cap's costume because, as I have said on the show a few times, it is really easy to just get really campy. Captain America, the character, walks a very fine line between cheese and acceptable and this line becomes even thinner when put into a realistic film world. Don't believe me? Captain America has been adapted to screen before, first in 1979 as a pair of TV movies ('Captain America' & 'Captain America 2') starring Reb Brown ('Death of a Soldier', 'Howling 2') and then again in 1990 as a theatrical feature starring Matt Salinger ('What Dreams May Come', 'Under the Tuscan Sun'). Both versions were high camp and photos of those Captains are below:
So here are the new concept renders, I like the look of him. When I first read the description, I wasn't overly impressed but now I can see it, I don't mind the look although I miss the wings on his cowl. I have put a photo of the comic book Cap above for you to compare. Click the thumbs for larger shots.
image source: AICN
What do you think? Will this Captain America work? Do you like the new costume? Comment below.