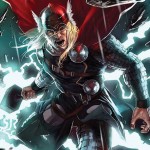 What a day of bountiful goodness it has been today. First AICN leaked those fantastic, apparently real, concept shots of Captain America's costume and now Collider has posted these fantastic images of the Thor costume.
We had that official photo released a month ago of Chris Hemsworth as Thor but it was obscure and didn't show the whole body. These concept shots, if real, give us the rest of the picture. Still no helmet but the hammer Mjolner looks great.
Considering the similar style to the Captain America shots, I kinda feel these will prove to be authentic which begs the question, is Marvel putting this stuff out or do they have a really leaky boat at the moment? Once again, I have put a shot of the comic book character at the top of the post for you to compare the looks.
Enjoy the shots:
image source: Collider
and here is the official photo that got released: