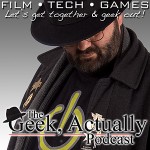 Hosts: David McVay, Josh Philpott and Celine Roberts
The Geek Actually Podcast, your weekly dose of 'the week in geek'. This week David McVay and Josh Philpott are joined by Celine Roberts for a look at the latest in tech and entertainment news and a review of the latest remake disaster 'A Nightmare on Elm Street'. We start the show with a special thank you to all those that helped get Nicholas his special birthday gift, Final Cut Express 4. We also pay our respects to Gary Coleman and Dennis Hopper, who both passed away recently. Your show links follow:
Watch us live at geekactually.com/live 12pm Saturdays (AEST UTC +10)

Tech News
Google Drops Windows
http://geekactually.com/2010/06/02/google-is-dropping-the-windows-operating-system/
Two months in and the iPad knock offs are here
http://geekactually.com/2010/06/03/apad-iped-here-come-the-knock-offs/
Total geekgasm! The 'Minority Report' style interface is a reality
http://geekactually.com/2010/06/03/geekgasm-minority-report-interface-in-real-life/
Facebook CEO Mark Zuckerberg sweats up a storm at D8
http://geekactually.com/2010/06/04/zuckerberg-sweats-up-a-storm-at-d8/
A Sydney restaurant replaces it's menus with iPads
http://www.news.com.au/technology/ipad/sydney-restaurant-replaces-menus-with-ipads/story-fn5knrwy-1225874904671
Entertainment News
We watch the new 'Scott Pilgrim vs. The World' trailer
http://geekactually.com/2010/06/01/new-trailer-scott-pilgrim-vs-the-world-full-trailer/
Guillermo del Toro leaves 'The Hobbit'
http://geekactually.com/2010/06/01/guillermo-del-toro-leaves-the-hobbit/
Will Peter Jackson direct?
http://geekactually.com/2010/06/01/update-the-hobbit/
Heidi Montag submits an audition tape for 'Transformers 3' and so does Ben Kingsly LOL
http://www.youtube.com/watch?v=mIuqiepu4UY&feature=player_embedded
and http://www.slashfilm.com/2010/06/02/lol-ben-kingsley-submits-video-audition-for-transformers-3/
Captain America and Thor costume leaks
http://geekactually.com/2010/06/03/captain-americas-costume-revealed/
and http://geekactually.com/2010/06/03/first-captain-america-concept-art-leaked-now-thor-art-leaked/
Rampage Jackson thinks acting is kinda gay. LOL
http://www.news.com.au/entertainment/movies/acting-is-kinda-gay-rampage-jackson-says/story-e6frfmvr-1225874374335
We watch the new 'Gulliver's Travels' trailer and ask ourselves, what was that?
http://geekactually.com/2010/06/04/trailer-gullivers-travels/
An update on the 'Logan's Run' remake, now in 3D!
http://geekactually.com/2010/06/03/new-details-on-the-logans-run-remake/
We watch an unusual trailer for a strange little film – 'Jackboots on Whitehall'
http://geekactually.com/2010/06/04/trailer-jackboots-on-whitehall-the-uks-answer-to-team-america-world-police/
Film Review
'A Nightmare on Elm Street' directed by Samuel Bayer. The film was written by Wesley Strick and Eric Heisserer based on characters created by Wes Craven. The film stars Jackie Earle Haley, Kyle Gallner, Rooney Mara, Katie Cassidy, Thomas Dekker, Kellan Lutz and Clancy Brown.
A Platinum Dunes remake of the classic 1984 Wes Craven film of the same name. The kids on Elm Street start having severe nightmares about a maniac with blades on his fingers and a burned up face.
One by one they start being killed by this demonic dream figure and when you die in his world, you die in the real world. It is up to Nancy and Kyle to find out who the mysterious killer is and why he wants them all dead before it is too late and they become the next victims.
Our Verdict: Avoid at all costs. The Platinum Dunes guys just didn't get the material and have lost any sense of what Wes Craven set out to create.
This episode carries an explicit tag due to infrequent coarse language.
Listen or download it here or subscribe to it on iTunes
Podcast: Play in new window | Download
Geek Actually is brought to you by listeners, just like you. Thanks for your contributions. If you wish to make a contribution, go to the "Support Us" link above.
Send feedback for this show to feedback@geekactually.com or leave us a voice mail message to play on the show at (Sydney number) 02 8011 3167. If you are an iTunes user, please leave a review as we are trying to get on the featured list and every review helps. Your comments (good or bad) help us improve the show.
For information on the Unofficial Geek Actually Movie Club screening times and titles, visit our forum.
Catch the after show we recorded on Wednesday on the same feed as this show.