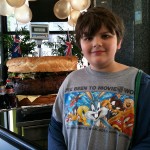 You're going to read about this in the paper tomorrow and probably see it on Channel 9 news tonight but I was there too and I am going to try and beat them all to the punch.
Ambrosia Take Away Restaurant in Randwick, NSW Australia is going for gold! They have made what they believe is the world's largest hamburger and they have submitted it to the Guinness book of World Records. They won't know if they were successful for a couple of weeks but it sure is an impressive looking burger.
Weighing in at 90kg and measuring 710mm in diameter and standing 410mm high this towering monument to all geek food around the world cost around $2000 to make and took 13 hours to cook. Joe, the owner of Ambrosia told me that they have been planning the burger for 3 months. They had to have the bun specially ordered for the project and it weighs in at around 20kg by itself! When I asked Joe why he wanted to do this, he answered with a simple "it's just something to keep me going, you know."
Ambrosia holds a very special place in my geek heart as it is the coffee shop that we go to every Saturday morning before the show. I wish them all the best with their record bid and I believe they will get it as the previous record is held by an 84kg monster in America. Good Luck Ambrosia.
We have an special video interview with Joe and video footage of the beast which we will play on the show on Saturday, make sure you don't miss that.