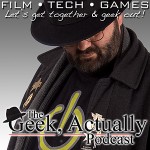 Hosts: David McVay & Josh Philpott
The Geek Actually Podcast, your weekly dose of 'the week in geek'. This week David McVay and Josh Philpott go hunting as we review the new film in the Predator franchise, 'Predators'. We also take a look at the week's tech and entertainment news from a geek's perspective.
This is the last Geek Actually Podcast in this form, as of next week the show will be broken up into three separate shows; Tech Actually, Film Actually and the Geek Actually After Show. All the information on this re-structure can be found here at geekactually.com.
This, however, is still The Geek Actually Podcast and it is fitting that it is just the two of us for this episode as it kind of takes us full circle. And as a side note, the episode numbers will have continuity so all three of next weeks shows will be episode 93, that means we are still heading to our 100th episode celebration in eight weeks. Your show links follow:
Typically we record the show live at 12pm Saturdays (AEST UTC +10) at geekactually.com/live

Breaking News
Mel Gibson is being a pig again, this time he throws abuse at Oksana Grigorieva.
http://www.radaronline.com/exclusives/2010/07/world-exclusive-audio-mel-gibsons-explosive-racist-rant-listen-it-here
Tech News
The experts tell us it is safe to watch 3D TV.
http://www.news.com.au/technology/its-okay-to-watch-3d-tv-says-scientists/story-e6frfro0-1225888831991
Australia continues rolling out the National Broadband Network, are you next?
http://www.news.com.au/technology/will-you-be-next-to-get-the-broadband-network/story-e6frfro0-1225889644760
We win… for the moment. The Internet Censorship Filter is shelved until next year!
http://www.news.com.au/technology/communications-minister-stephen-conroy-shelves-controversial-plan-to-censor-the-internet/story-e6frfro0-1225889790995
Boy, make a funny video and get your ass fired – Come on Best Buy get a sense of humour.
http://techcrunch.com/2010/07/01/best-buy-iphone-4-evo-4g/
Facebook censors have lost their friggin' minds.
http://www.smh.com.au/technology/technology-news/now-facebook-bans-doll-nipples-20100705-zwnr.html
Entertainment News
We watch the real 'Machette' trailer.
http://au.movies.ign.com/dor/objects/14343587/machete/videos/machete_trl_070810.html;jsessionid=pr11n39s59w5
Apparently Warner Bros. wants Chris Columbus to direct Superman!?!? Hopefully Christopher Nolan has something to say about this.
http://www.supermanhomepage.com/news.php?readmore=8194
Last week we talked about Beast being fired from 'X-Men Origins: First Class' – it wasn't Beast being fired, it was Benjamin Walker who was fired, meet the new Beast, Nicholas Hoult.
http://www.deadline.com/2010/07/x-men-first-class-finds-a-beast-in-nicholas-hoult/
'Kick-Ass' star Aaron Johnson cast as Cyclops in 'X-Men Origins: First Class'.
http://www.slashfilm.com/2010/07/08/aaron-johnson-cast-as-cyclops-in-x-men-first-class/
The Isaiah Mustafa Old Spice Ad named Commercial of the Year. Watch them all, they are fantastic.
http://geekactually.com/2010/07/11/the-isaiah-mustafa-old-spice-ads-brilliance/
New Mad Max film, 'Mad Max Fury Road' will be shot in 3D
http://if.com.au/2010/07/06/article/Exclusive-Mad-Max-4-to-be-filmed-in-3D/KTWALGZVRD
Daft Punk's score for 'Tron Legacy' to be released Nov 23, a month before the film
http://www.stitchkingdom.com/disney-news/music/tron-legacy-soundtrack-daft-punk-released-november-23/
Film Review
'Predators' directed by Nimród Antal and produced by Robert Rodriguez. The film was written by Alex Litvak and Michael Finch and is based on characters created by Jim and John Thomas. The film stars Adrien Brody, Topher Grace, Alice Braga, Walton Goggins, Oleg Taktarov, Laurence Fishburne, Danny Trejo, Louis Ozawa Changchien, Mahershalalhashbaz Ali.
A group of earth's deadliest people find themselves mysteriously dropped on an alien world and hunted by the universes deadliest predators. Gore, action, mayhem and many nods to the original film. Watch the trailer here.
Our Verdict: Not a reboot, not a re-imagining but a bonafide, genuine sequel! It has taken 23 years but 1987's 'Predator' starring Arnold Scharzenegger finally gets the sequel it deserves. A great, fun popcorn film that delivers thrills and spills. If you are looking for deeper meaning in the world, this is not the film for you.
This episode carries an explicit tag due to infrequent coarse language.
Listen or download it here or subscribe to it on iTunes
Podcast: Play in new window | Download
Geek Actually is brought to you by listeners, just like you. Thanks for your contributions. If you wish to make a contribution, go to the "Support Us" link above.
Send feedback for this show to feedback@geekactually.com or leave us a voice mail message to play on the show at (Sydney number) 02 8011 3167 (you can also send us an mp3 file if you'd prefer). If you are an iTunes user, please leave a review. Your comments (good or bad) help us improve the show.
For information on the Unofficial Geek Actually Movie Club screening times and titles, visit our forum. Make sure you check out the after show on Wednesday for our bonus review of 'The Runaways'.