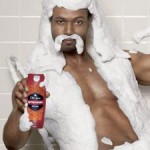 On this weeks Geek Actually Podcast (ep 92) we discussed this brilliant ad campaign for Old Spice. We showed the videos and raved about how good the star, Isaiah Mustafa, was and we promised that we would have all the clips posted here for the audio listeners, so here they are plus a segment from Leo Laporte's TWiT network where the campaign creators discussed how the first ad was made. This is fascinating stuff so if you have 20 minutes to spare watch that too.
And as a bonus at the bottom you will find the Neil Patrick Harris Old Spice ad that we played on the After Show. Enjoy and please let us know what you think of these wonderful ads in the comments below.
Here is the first of this brilliant campaign, it is called "The Man Your Man Could Smell Like":
This was a quick 15 second on called "Did you know":
This was the second full ad called "Questions":
And finally, another 15 second quickie simply called "Boat":
This is Leo Laporte's behind the scenes special:
And last but not least, here is an older Old Spice ad with Neil Patrick Harris – killer stuff.