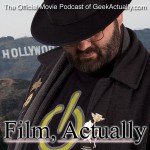 Hosts: David McVay, Josh Philpott, Mirren Lee & Shane Gregory
Welcome to the new Film Actually podcast, your weekly dose of movie geek. Film Actually is the official movie podcast of geekactually.com. This week David McVay and Josh Philpott are joined by the very quiet Shane Gregory and the force of nature that is Mirren Lee to review the new Tom Cruise/Cameron Diaz film 'Knight and Day'. We also take a look at the week's geeky film news.
Now, if you are new to Geek Actually you are probably wondering why this first episode of Film Actually is numbered 93. No, we are not insane, Film Actually and Tech Actually (our tech podcast) used to be one show called The Geek Actually Podcast and this week we split them into two shows. We kept the numbering continuity across all three of our shows. All the information on the re-structuring of the shows can be found here at geekactually.com.
*Update 14/10/2011 – Film Actually was a split off from the main Geek Actually show and originally maintained numbering continuity with that show. That logic no longer works as the shows have become two unique entities, so we have gone back and re-numbered the Film Actually shows to reflect their true episode number. This show is now officially episode 1 but when you listen to the show you will hear it referred to as episode 93, this is why. Sorry about any confusion or inconvenience.
Film Actually is recorded live every Saturday at 1.15pm (AEST UTC +10) at geekactually.com/live.
This episode carries an explicit tag due to infrequent coarse language.
Listen or download it here or subscribe to it on iTunes
Podcast: Play in new window | Download
Your show links:
News
Totally Cool – A full size Optimus Prime made in China from scrap!
http://english.peopledaily.com.cn/90001/90783/91300/7062195.html
We watch the trailer for 'Devil'
http://www.youtube.com/watch?v=iUrUlnLOzlE&feature=player_embedded
Edward Norton is out of 'The Avengers' – What happened?
http://geekactually.com/2010/07/12/edward-norton-not-returning-for-the-avengers-here-are-both-sides/
and Norton himself responds
http://www.slashfilm.com/2010/07/12/edward-norton-releases-statement-about-marvels-casting-decisions-for-the-avengers/
Roman Polanski goes free
http://www.nytimes.com/2010/07/13/movies/13polanski.html?_r=1&src=mv
The gay Iraq war romance film by the Wachowskis has started casting and shooting.
http://www.slashfilm.com/2010/07/13/the-wachowskis-gay-iraq-romance-begins-casting-has-a-title-cn9/
We watch the new trailer for 'The Social Network'
http://movies.yahoo.com/premieres/20889647/standardformat
Feature Review
'Knight and Day' directed by James Mangold and written by Patrick O'Neill. It stars Tom Cruise, Cameron Diaz, Peter Sarsgaard, Viola Davis, Marc Blucas, Maggie Grace, Jordi Molla and Paul Dano.
The official synopsis: "In the sexy action-comedy Knight and Day, Tom Cruise is a covert agent sent on a mission he was never meant to complete, and Cameron Diaz is a woman caught between the agent and those he claims set him up. As their globetrotting adventure erupts into a maze of double-crosses, close escapes and false identities, they come to realize that all they can count on is each other."
Our verdict: Avoid this incomprehensible mess at all costs. The leads are unappealing and the plotting is plodding.
Watch the trailer here http://www.youtube.com/watch?v=-0cSz62nq9Y
Film Actually is brought to you by listeners, just like you. Thanks for your contributions. If you wish to make a contribution, go to the "Support Us" link above.
Send feedback for this show to feedback@geekactually.com or leave us a voice mail message to play on the show at (Sydney number) 02 8011 3167 (you can also send us an mp3 file if you'd prefer). If you are an iTunes user, please leave a review. Your comments (good or bad) help us improve the show.
Join us on our Facebook Fan Page: facebook.com/GeekActually
Get your Geek Actually swag at cafepress.com.au/geekactually
Make sure you check out our other fine podcasts – Tech Actually and The Geek Actually After Show.
For information on the Unofficial Geek Actually Movie Club screening times and titles, visit our forum. Make sure you check out the after show for a bonus review of 'The Karate Kid'.