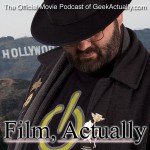 Hosts: David McVay, Josh Philpott, Calum Wilson Austin and Shane Gregory
Welcome to the Film Actually podcast, your weekly dose of movie geek. Film Actually is the official movie podcast of geekactually.com.
This week David McVay and Josh Philpott are joined Calum Wilson Austin and Shane Gregory for a review of 'Piranha 3D'. We also have footage from 'The Walking Dead', an 8 year olds take on 'The Expendables' and a new List of Five.
*Update 14/10/2011 – Film Actually was a split off from the main Geek Actually show and originally maintained numbering continuity with that show. That logic no longer works as the shows have become two unique entities, so we have gone back and re-numbered the Film Actually shows to reflect their true episode number. This show is now officially episode 6 but when you listen to the show you will hear it referred to as episode 98, this is why. Sorry about any confusion or inconvenience.
Film Actually is recorded live every Saturday at approximately 1.15pm (AEST UTC +10) at geekactually.com/live
Your show links:
Entertainment Buzz
Piranha 2 already planned
http://www.slashfilm.com/2010/08/23/piranha-3d-sequel-announced-might-be-set-in-thailand/
An excerpt from The Walking Dead Trailer, for the whole 4 1/2 minutes go to:
http://geekactually.com/2010/08/28/high-quality-version-of-the-walking-dead-comic-con-footage/
Angelina Jolie to make her writing and directing debut
http://blog.gk-films.com/2010/08/angelina-jolie-set-to-make-feature-film-directorial-debut/
Movie aside Facebook, now the Google movie is coming – This is no joke
http://www.deadline.com/2010/08/google-founders-sergey-brin-and-larry-page-get-feature-film-treatment/#more-62187?_r=true
Just for LOLs, an 8 year old explains The Expendables
http://geekactually.com/2010/08/23/funny-stuff-an-8-year-old-explains-the-expendables/
Feature Review
'Piranha 3D' directed by Alexandre Aja and written by Pete Goldfinger and Josh Stolberg based on the 1978 Roger Corman produced film 'Piranha' directed by Joe Dante and written by John Sayles. It stars Elisabeth Shue, Ving Rhames, Jerry O'Connell, Steven R. McQueen, Adam Scott, Christopher Lloyd, Richard Dreyfuss, Dina Meyer, Jessica Szohr, Kelly Brook and just for good measure we have porn stars Riley Steele, Gianna Michaels and Ashlynn Brooke.
Every year the population of sleepy Lake Victoria explodes from 5,000 to 50,000 for Spring Break, a riot of sun and drunken fun. But this year, there's something more to worry about than hangovers and complaints from local old timers; a new type of terror is about to be cut loose on Lake Victoria. After a sudden underwater tremor sets free scores of the prehistoric man-eating fish, an unlikely group of strangers must band together to stop themselves from becoming fish food for the areas new razor-toothed residents. – source IMDB
Our Verdict: Probably the most stupid film of the year, but massively entertaining. Funny, gory and full of 3D boobies!
Watch the trailer here http://www.youtube.com/watch?v=mW5_4gZ0Jn4
Lists of Five
The Five Best Boob Shots in Horror Movies. I apologise in advance as this didn't seem like such a seedy idea when we thought of it.
This episode carries an explicit tag due to infrequent coarse language.
Listen or download it here or subscribe to it on iTunes
Podcast: Play in new window | Download
Film Actually is brought to you by listeners, just like you. Thanks for your contributions. If you wish to make a contribution, go to the "Support Us" link above.
Send feedback for this show to feedback@geekactually.com or leave us a voice mail message to play on the show at (Sydney number) 02 8011 3167 (you can also send us an mp3 file if you'd prefer). If you are an iTunes user, please leave a review. Your comments (good or bad) help us improve the show.
Join us on our Facebook Fan Page: facebook.com/GeekActually
Get your Geek Actually swag at cafepress.com.au/geekactually
Make sure you check out our other fine podcasts – Tech Actually and The Geek Actually After Show.
A special shout out to Josh Spencer over at Spencer Cartoons who is currently working on our new cover art images and they are brilliant – find out more about Josh Spencer over athttp://attackninja.blogspot.com/
For information on the Unofficial Geek Actually Movie Club screening times and titles, visit our forum.