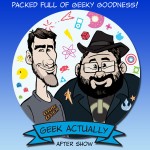 Now somewhere, someone's grandmother (not mine) said "if it isn't worth doing well, it isn't worth doing at all." And I mostly believe in this statement, I just wish my grandmother had said it to me. But with that sentiment in mind I am going to delay the 100th episode of our shows. That means there will be no shows this week but we will be back in strong and fine form next week.
Why?!? I hear some you screaming this already. An explanation is in order I guess. We (Josh and I) had planned the 100th episode as our big new shiny re-launch of the podcasts. Some of it has been done already, such as the breaking up of the shows and the new cover art that was revealed last week. However, we also planned on new graphics, a re-designed studio and most importantly better video quality in 16:9 format. Although we have already improved the video (still in standard 4:3 format) and mostly re-designed the studio it isn't all finished yet. To get the video into 16:9 widescreen we also have to completely redo all of the video and graphics that we present on the show as the original graphics etc. are all in the standard 4:3 format.
So, Josh and I have put off the 100th episode re-launch until next week to make sure we can give you the best shows we can. We will be back on September 18th with new film reviews, new tech news and most importantly with our 100th episode celebrations. The Little Geek Show will also finally have a new episode next week with Nicholas and I giving our opinions on the new family film, The Last Airbender. Nicholas has had a rough time over the last couple of months with school and illness that we just haven't been able to get an episode out, he is very excited to be back.
Until then, the site will continue as normal and we will still have our Un-Official Geek Actually Movie Club meet up nights (tonight is The Sorcerer's Apprentice at the Ritz Cinema – go to our forum for details) and you could see this as an opportunity to catch up on past episodes or listen to me on last week's Right This Instant hosted by Brad Anderson over at The Movie Fan House (moviefanhouse.com).
So, I hope to see a nice full chat room on the 18th because it is going to be an awesomely fun series of shows on that day.