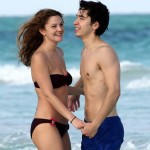 Okay, I need help, can someone please explain this to me?
In an article in the Sydney Morning Herald today Justin Long (actor and 'Mac' in the I'm a PC and I'm a Mac ads) says he is considering moving to porn. Is this true or is he joking around?
The article is a puff piece about his new film 'Going the Distance' and his on again off again relationship with actress and co-star Drew Barrymore, but when you get to the very bottom of the article he is asked what his next move is and he replies with this:
''I know this is going to sound like a joke but I've been looking at some potential jobs in the porn industry,'' he says.


''Maybe as a performer, director or storyboard artist. So that's something in the next 12 months that I have set my sights on.''
Now I know that Justin Long has a very dry sense of humour so I kept reading and I'll just quote from the article:
Umm, that's quite a departure from a big-studio romantic comedy?

''It's not quite as big as what you would think,'' he says, playing a straight bat. ''I'd like to play the same character but I want the storylines to be more graphic. I've been trying to hold off and be more selective. In order to do that, you have to be willing not to work, which is really hard for me because I miss it.''

So much so, he apparently is ready for this extreme left turn.

''In this business things can change overnight,'' he says, carefully. ''I want my next thing to excite me and challenge me. I have made a concerted effort to break and we'll have to wait and see if I work again.''
Okay, so is he joking around or do you think he might actually be considering this? I tend to think he is joking and the SMH reporter just didn't know that he was.
Now I am not condemning his choices, if he wants to go work in porn, good for him and, quite frankly, good for porn, it just seems like a very strange choice for someone who is quite successful.
What are your thoughts on this? Do you think this is a joke or a radical career change? Comment below.
Source: The Sydney Morning Herald