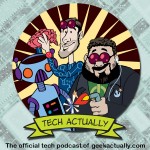 Hosts: David McVay & Josh Philpott
This is the official tech podcast of geekactually.com. The tech show by geeks for geeks and non-geeks. Accessible tech for everyone is the motto we live by. This week on Tech Actually we discuss all the evidence building up that will lead us to 'The Impending Robot Apocalypse'. This is all done in fun of course, but the evidence is pretty compelling.
Tech Actually is recorded live on Saturdays at 12pm (AEST UTC+10). Go to geekactually.com/live to watch it live. Your show notes follow:
This week we want to say happy 35th anniversary to Industrial Light & Magic! From Star Wars to The Last Airbender and approximately 264 other titles in the middle, ILM still stands as the biggest, most well respected and, quite frankly, best special effects company in the world.  Winners of 15 Best Visual Effects Oscars and 23 additional nominations plus 23 Technical Awards for advances in technology in filmmaking from the Academy of Motion Picture Arts and Sciences. We salute you ILM.
Little known fact: Photoshop was created by ILM visual effects supervisor John Knoll and his brother Thomas Knoll as a summer project for use on the film The Abyss. It was sold to Adobe just before the release of the movie.
Follow Up
Over the last couple of episodes we have talked about controlling things with the mind, now comes mind reading…
http://www.news.com.au/technology/mind-reading-machine-turns-thoughts-into-words-us-scientists-claim/story-e6frfro0-1225916162233
This Week
This plant was literally killed with love.
http://www.smh.com.au/technology/sci-tech/facebookfed-aussie-plant-killed-by-kindness-20100916-15cwn.html
No, no, no! Stop taking features away!!! iPad loses it's rotation lock switch in iOS 4.2.
http://news.yahoo.com/s/macworld/20100916/tc_macworld/firstlookios42beta1
The mouse works! Apple and Microsoft have to stop trying to redesign the wheel.
http://www.news.com.au/technology/microsoft-arc-touch-mouse-changes-its-shape/story-e6frfro0-1225915337675
A new study proves what we already knew, shoot em up games improve decision making.
http://www.news.com.au/technology/shoot-em-up-games-improve-decision-making-study-says/story-e6frfrnr-1225923173292
Microsoft launches the IE9 beta, is it too little too late?
http://www.news.com.au/technology/theres-a-new-internet-explorer-out-there-but-how-will-it-change-the-way-you-facebook/story-e6frfro0-1225924628425
And in totally cool tech – Engage the tractor beam mr. Riker!!!
http://www.news.com.au/technology/aussie-students-invent-tractor-beam/story-e6frfro0-1225916239886
Topic of the week – The Impending Robot Apocalypse
A re-cap and new entries into the impending Robot Apocalypse
To re-cap:
In Episode 95 we had – Aussie robots used by US military for target practice.
http://www.smh.com.au/technology/sci-tech/us-target-practice-the-57m-aussie-fall-guys-20100727-10tpu.html
In Episode 97 we had – Robots with emotions, what could possibly go wrong?
http://www.news.com.au/technology/scientists-create-robot-with-emotions/story-e6frfro0-1225903141869
In Episode 99 we had – DARPA is making learning computers, eeek!
http://www.youtube.com/watch?v=BF-KNFlOocQ&feature=player_embedded
Now a few more pieces of evidence to that the end is near:
Japan is developing robots that replace humans.
http://www.news.com.au/technology/hrp-4-worker-robot-made-to-replace-humans/story-e6frfro0-1225925174908
Let's add some artificial skin that can feel sensations shall we.
http://www.news.com.au/technology/robotics-breakthrough-scientists-make-artificial-skin/story-e6frfro0-1225920548036
Oh yeah, and remember those robot snake things in the last Terminator movie…
http://www.news.com.au/technology/bioroboticists-create-a-robot-snake-that-can-climb-trees/story-e6frfro0-1225915794779
And don't forget, the robots will need human zombie foot soldiers.
http://www.news.com.au/technology/darpa-working-to-develop-helmets-for-us-army-that-control-soldiers-brains/story-e6frfro0-1225918179501
And the best part of all, we are doing it to ourselves! We are making the bloody things :-)
As always this episode carries an explicit tag due to some bad language.
Listen or download it here or subscribe to it on iTunes
Podcast: Play in new window | Download
Tech Actually is brought to you by listeners, just like you. Thanks for your contributions. If you wish to make a contribution, go to the "Support Us" link above.
Send feedback for this show to geektech@geekactually.com or leave us a voice mail message to play on the show at (Sydney Number) 02 8011 3167 (you can also send us an mp3 file if you'd prefer). If you are an iTunes user, please leave a review when the feed is established so we can build our audience. Your comments (good or bad) help us improve the show.
Join us on our Facebook Fan Page: facebook.com/GeekActually
Get your Geek Actually swag at cafepress.com.au/geekactually
We also want to give a big shout out to Josh Spencer over at Spencer Cartoons who is currently working on our new cover art images and they are brilliant – find out more about Josh Spencer over at http://attackninja.blogspot.com/
Make sure you check out our other fine podcasts – Film Actually and The Geek Actually After Show.