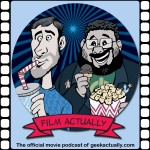 Hosts: David McVay, Josh Philpott & Calum Wilson Austin
Welcome to the Film Actually podcast, your weekly dose of movie geek. Film Actually is the official movie podcast of geekactually.com.
This week David McVay and Josh Philpott are joined Calum Wilson Austin for a review of the second film in the Millennium Trilogy, 'The Girl Who Played With Fire'. We also have some Entertainment Buzz including the new trailer for 'Harry Potter and the Deathly Hallows Part 1' and a new List of Five, five foreign language films you must watch.
*Update 14/10/2011 – Film Actually was a split off from the main Geek Actually show and originally maintained numbering continuity with that show. That logic no longer works as the shows have become two unique entities, so we have gone back and re-numbered the Film Actually shows to reflect their true episode number. This show is now officially episode 9 but when you listen to the show you will hear it referred to as episode 101, this is why. Sorry about any confusion or inconvenience.
Film Actually is recorded live every Saturday at approximately 1.15pm (AEST UTC +10) at geekactually.com/live
Your show notes:
Feature Film Review
'The Girl Who Played With Fire' directed by Daniel Alfredson and written by Jonas Frykberg based on the novel by Stieg Larsson. It stars Michael Nyqvvist, Noomi Rapace, Lena Endre, Peter Andersson, Yasmine Garbi, Ralph Carisson and Georgi Staykov.
The second film in the Millennium Trilogy. As computer hacker Lisbeth and journalist Mikael investigate a sex-trafficking ring, Lisbeth is accused of three murders, causing her to go on the run while Mikael works to clear her name.- source IMDB
Watch the trailer here http://www.youtube.com/watch?v=oSsodK7KFXQ
Our Verdict: A weaker film than the first with slow, dull action scenes and a weak script. The film vaguely feels like a student effort. Avoid and watch something from our lists of five.
Entertainment Buzz
We called it a few weeks ago, Casey Affleck admits Joaquin Phoenix's I'm Still here fake
http://www.nytimes.com/2010/09/17/movies/17affleck.html?_r=1
and Letterman was in on it
http://www.slashfilm.com/2010/09/18/im-still-here-david-letterman-was-in-on-it-too/
AMC releases final poster art for The Walking Dead
http://www.slashfilm.com/2010/09/21/final-poster-revealed-the-walking-dead/
New Abram's TV show picked up so fast it would make your head spin!
The Pitch 20/09/2010 http://nymag.com/daily/entertainment/2010/09/locke_ben_jj_abrams_lost.html?mid=twitter_vulture
The Pick Up 22/09/2010 NBC picks it up http://nymag.com/daily/entertainment/2010/09/nbc_picks_up_jj_abrams_linus_l.html
New Harry Potter and the Deathly Hallows trailer
http://www.youtube.com/watch?v=YzfEH0UPEBo
Lists of Five
This week, Five Must See Foreign Language Movies or things you can watch instead of 'The Girl Who Played With Fire' :-)
This episode carries an explicit tag due to infrequent coarse language.
Listen or download it here or subscribe to it on iTunes
Podcast: Play in new window | Download
Film Actually is brought to you by listeners, just like you. Thanks for your contributions. If you wish to make a contribution, go to the "Support Us" link above.
Send feedback for this show to feedback@geekactually.com or leave us a voice mail message to play on the show at (Sydney number) 02 8011 3167 (you can also send us an mp3 file if you'd prefer). If you are an iTunes user, please leave a review. Your comments (good or bad) help us improve the show.
Join us on our Facebook Fan Page: facebook.com/GeekActually
Get your Geek Actually swag at cafepress.com.au/geekactually
Make sure you check out our other fine podcasts – Tech Actually and The Geek Actually After Show.
Find out more about Josh and Dave's other show and blog by going to rawDLC.com
A special shout out to Josh Spencer over at Spencer Cartoons who is currently working on our new cover art images and they are brilliant – find out more about Josh Spencer over at http://attackninja.blogspot.com/
For information on the Unofficial Geek Actually Movie Club screening times and titles, visit our forum.