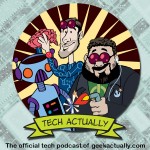 Hosts: David McVay & Josh Philpott
This is the official tech podcast of geekactually.com. The tech show by geeks for geeks and non-geeks. Accessible tech for everyone is the motto we live by. This week on Tech Actually we answer a listener request and dish up 20 iPhone apps that new iPhone users should get. From free to paid apps, Josh and David share the apps that they use on a regular basis. We also dish up some new news on the new tablets that are supposed to compete with Apple's iPad. You show links follow:
Tech Actually is recorded live on Saturdays at 12pm (AEST UTC+10). Go to geekactually.com/live to watch it live.
Your show notes follow:
This Week:
The iPad competition is finally coming…kind of.
Contender #1 http://www.smh.com.au/digital-life/tablets/samsungs-999-ipad-challenger-kicks-off-tablet-war-20100923-15nnh.html
Contender #2 http://online.wsj.com/article/SB10001424052748704129204575506160515163820.html
Dell has the Streak http://www.smh.com.au/digital-life/tablets/review-dell-streak-20100826-13sv4.html but they have plans for another, bigger one.
…and then there is this curious little video:
http://gizmodo.com/5645817/hp-slate-tablet-rears-its-square+edged-head-in-leaked-video
All new respect for our PM, she plays Angry Birds
http://www.news.com.au/technology/ipad/australian-pm-julia-gillard-has-no-problems-with-people-who-play-angry-birds/story-fn5knrwy-1225928797684
I was kind of hoping this was vaporware at E3, but it is real and it is released in 2011 – Planet Michael the MMO is coming.
http://www.news.com.au/technology/michael-jackson-inspiration-for-new-mmo-game/story-e6frfro0-1225927949581
Bill Gates won't leave his fortune to his kids when he dies, instead to charity.
http://www.news.com.au/business/i-will-not-leave-56bn-fortune-to-kids-says-bill-gates/story-e6frfm1i-1225927045715
And now in the 'what the hell were you thinking' department comes invisible planes!
http://www.news.com.au/technology/airbus-wants-to-build-invisible-passenger-plane/story-e6frfro0-1225925698591
One Worm to rule them all, this is scary shit.
http://www.news.com.au/technology/nation-state-most-likely-culprit-behind-stuxnet-ability-to-launch-rogue-nuclear-weapons/story-e6frfro0-1225928188990
Topic of the week -20 iPhone Apps for New iPhone Users
This week we are going to run through a list of recommended or must have iPhone apps for new iPhone users. These are apps that Josh and Dave have and use.
Utilities
1. Comic Book Lover by Bitcartel (free) 2. Australian Postcodes by Zebra Five (free) 3. Photo Share – Bluetooth Mania by Floor Girls (free) 4. iPro Recorder by Bias Inc. ($1.19) currently on special 5. Lenses by bitCycle (free) 6. Photo FX by The Tiffen Company ($3.99) 7. BeatMaker by INTUA ($12.99) 8. Evernote by Evernote (free) 9. USB Disk by Imesart (free) 10. Conversion by Duncan Campbell ($5.99)
Additional Utilities:
If you are a MobileMe subscriber MobileMe iDisk (free), MobileMe Gallery (free) and Find My iPhone (free) are all must have apps for iPhone and iPad
For video editing look at Reel Director by Nexvio Inc ($4.99) iPhone 4 users should take a look at iMovie by Apple ($5.99)
iBooks by Apple is also a great free reader and will allow you to put in your own DRM free epubs and PDF files.
All iPhone users need The Woo Button by Tight Apps (free) and if you are a user of any of these services, try: Facebook's Official App (free) or Friendly on iPad, Twitter's Official App (free) iPhone and iPad, eBay's Official App (free) iPhone and iPad, Skype's Official App (free) and Stitcher Radio (free)
Games
1. We Rule by Ngmoco (free) Plus+ Network 2. Grand Theft Auto: China Town Wars by Rockstar ($12.99) – Free Demo Available 3. Angry Birds by Clickgamer.com ($1.19) – Free Demo Available 4. Tetris by Electronic Arts ($3.99) 5. Plants Vs Zombies by Popcap games ($3.99) 6. N.O.V.A. Near Orbit Vanguard Alliance by Gameloft ($5.99) – Free Demo Available 7. Field Runners by SubAtomic Studios ($3.99) 8. Chaos Rings by Square Enix ($15.99) 9. 3D Mini Golf Challenge by Digital Chocolate ($2.49) – Free Demo Available 10. Super Mega Worm by Deceased Pixel ($1.19).
Additional Games:
Platinum Solitaire by Gameloft ($1.19), Tower Bloxx Deluxe 3D by Digital Chocolate ($2.49) – Free Demo Available, Chicks by Triniti Interactive ($1.19) and if you are a Farmville junkie, Farmville by Zynga (free) you have to have a Facebook Account and Facebook Farm.
As always this episode carries an explicit tag due to some bad language.
Listen or download it here or subscribe to it on iTunes
Podcast: Play in new window | Download
Tech Actually is brought to you by listeners, just like you. Thanks for your contributions. If you wish to make a contribution, go to the "Support Us" link above.
Send feedback for this show to geektech@geekactually.com or leave us a voice mail message to play on the show at (Sydney Number) 02 8011 3167 (you can also send us an mp3 file if you'd prefer). If you are an iTunes user, please leave a review when the feed is established so we can build our audience. Your comments (good or bad) help us improve the show.
Join us on our Facebook Fan Page: facebook.com/GeekActually
Get your Geek Actually swag at cafepress.com.au/geekactually
We also want to give a big shout out to Josh Spencer over at Spencer Cartoons who is currently working on our new cover art images and they are brilliant – find out more about Josh Spencer over at http://attackninja.blogspot.com/
Make sure you check out our other fine podcasts – Film Actually and The Geek Actually After Show.