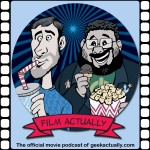 Hosts: David McVay, Josh Philpott & Brandon McClelland
Welcome to the Film Actually podcast, your weekly dose of movie geek. Film Actually is the official movie podcast of geekactually.com.
This week David McVay and Josh Philpott are joined Brandon McLelland for a review of Oliver Stone's, 'Wall Street Money Never Sleeps'. We also have some Entertainment Buzz including the new easer trailer for 'True Grit' and a new List of Five, the five best Michael Doulas performances (not including Wall Street). You can find Brandon on Twitter @brandonicism
*Update 14/10/2011 – Film Actually was a split off from the main Geek Actually show and originally maintained numbering continuity with that show. That logic no longer works as the shows have become two unique entities, so we have gone back and re-numbered the Film Actually shows to reflect their true episode number. This show is now officially episode 10 but when you listen to the show you will hear it referred to as episode 102, this is why. Sorry about any confusion or inconvenience.
Film Actually is recorded live every Saturday at approximately 1.15pm (AEST UTC +10) at geekactually.com/live
Your show notes:
Feature Film Review
'Wall Street: Money Never Sleeps' directed by Oliver Stone and written by Allan Loeb and Stephen Schiff based on characters by Oliver Stone and Stanley Weiser. It stars Michael Douglas, Shia LaBeouf, Josh Brolin, Carey Mulligan, Susan Sarandon, Frank Langella and Eli Wallach.
As the global economy teeters on the brink of disaster, a young Wall Street trader partners with disgraced former Wall Street corporate raider Gordon Gekko on a two-tiered mission: To alert the financial community to the coming doom, and to find out who was responsible for the death of the young trader's mentor..- source IMDB
Watch the trailer here http://www.youtube.com/watch?v=rS0PJSKJoxw
Entertainment Buzz
The Star Wars film getting a 3D conversion and cinema re-release starting in 2012
http://www.hollywoodreporter.com/hr/content_display/news/e3i677c428c4dc16c2c7592835d50e86a3a
First trailer for the Coen Brother's remake of 'True Grit' surfaces.
http://www.youtube.com/watch?v=uco41pOKeJg&feature=player_embedded
Big Rumour: Darren Aronofsky may direct Preacher
http://www.newsarama.com/film/aronofsky-preacher-director-100929.html
Lists of Five
This week, Five great Michael Douglas Performances – not including Wall Street. Check our Forum for the lists.
This episode carries an explicit tag due to infrequent coarse language.
Listen or download it here or subscribe to it on iTunes
Podcast: Play in new window | Download
Film Actually is brought to you by listeners, just like you. Thanks for your contributions. If you wish to make a contribution, go to the "Support Us" link above.
Send feedback for this show to feedback@geekactually.com or leave us a voice mail message to play on the show at (Sydney number) 02 8011 3167 (you can also send us an mp3 file if you'd prefer). If you are an iTunes user, please leave a review. Your comments (good or bad) help us improve the show.
Join us on our Facebook Fan Page: facebook.com/GeekActually
Follow David on Twitter: twitter.com/davidmcvay
Get your Geek Actually swag at cafepress.com.au/geekactually
Make sure you check out our other fine podcasts – Tech Actually and The Geek Actually After Show.
Find out more about Josh and Dave's other show and blog by going to rawDLC.com
A special shout out to Josh Spencer over at Spencer Cartoons who is currently working on our new cover art images and they are brilliant – find out more about Josh Spencer over at http://attackninja.blogspot.com/
For information on the Unofficial Geek Actually Movie Club screening times and titles, visit our forum.