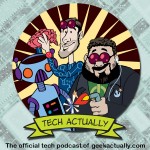 Hosts: David McVay & Josh Philpott
This is the official tech podcast of geekactually.com. The tech show by geeks for geeks and non-geeks. Accessible tech for everyone is the motto we live by. This week on Tech Actually we take a look at the ultimate gaming beast, zombie Nazis in Call of Duty, Facebook Places in Australia, tragedy strikes Segway, what is the latest on the National Broadband Network and space beer. You show links follow:
Tech Actually is recorded live on Saturdays at 12pm (AEST UTC+10). Go to geekactually.com/live to watch it live.
Your show notes follow:
Follow Up:
Remember the Stuxnet worm? Iran has confirmed that systems at their Nuclear facility have been compromised. Suprise Suprise.
http://www.smh.com.au/technology/security/malware-infects-iran-nuclear-station-20100927-15t06.html
This Week:
Is this the future of mobile internet, I hope so – but why Telstra?
http://www.smh.com.au/technology/review-telstra-ultimate-usb-modem-20100927-15u0a.html
In 'is this really news?' news – New iPads in the new year might be slimmer and have a camera!?!?!
http://www.news.com.au/technology/goldman-sachs-analysts-say-new-lighter-ipad-will-include-camera-and-min-usb-port/story-e6frfrnr-1225932204061
Do I really want people knowing where I am? Another reason to hate Facebook?
http://www.news.com.au/technology/facebook-launches-places-in-australia-not-identical-to-foursquare-at-all/story-e6frfro0-1225932299348
We here at Geek Actually love Nazi Zombies – Soon you may be able to shoot them
http://www.news.com.au/technology/black-ops-zombie-rumours-refuse-to-die/story-e6frfro0-1225929859034
The gaming beast! Is $23,000 too much to pay for a computer?
http://www.news.com.au/technology/customisable-23000-pc-xbox-360-hybrid/story-e6frfrnr-1225931593269
In really sad news, Segway boss James Heselden drove off a cliff on his Segway.
http://www.news.com.au/technology/segway-boss-dies-after-riding-scooter-off-cliff-in-northern-england/story-e6frfro0-1225930507509
Only in Australia – Space Beer!
http://www.smh.com.au/technology/sci-tech/beam-me-up-shhhcotty–the-aussie-space-beer-with-zero-gravity-20101001-15zzh.html
Topic of the Week – What's new with the NBN?
Things are not quite all roses for the NBN
Roll out of fibre is kinda held up by legislation
http://www.smh.com.au/technology/technology-news/vital-nbn-legislation-caught-up-in-senate-delays-20100927-15ssl.html
Telstra doesn't care about NBN, of course not it's the competition
http://www.smh.com.au/technology/technology-news/telstra-nonchalant-on-nbn-20100930-15xux.html
Carlos Slim, the world's richest telco mogul has slammed the NBN, Conroy fights back
http://www.smh.com.au/technology/technology-news/conroy-hits-back-at-slim-you-dont-know-what-youre-on-about-20100930-15xqe.html
Just in case you had forgiven Conroy and thought he was on our side now, he still wants the censorship filter
http://www.news.com.au/technology/conroy-not-dropping-internet-filter-despite-being-unlikely-to-get-anywhere/story-e6frfro0-1225930783196
iPhone Apps
Continuing on from last week: Listener DeltaKnight reminded me that we forgot Apple Remote. This is an awesome app for iTunes and AppleTV users. Josh recommends the Drop Box app for online storage.
As always this episode carries an explicit tag due to some bad language.
Listen or download it here or subscribe to it on iTunes
Podcast: Play in new window | Download
Tech Actually is brought to you by listeners, just like you. Thanks for your contributions. If you wish to make a contribution, go to the "Support Us" link above.
Send feedback for this show to geektech@geekactually.com or leave us a voice mail message to play on the show at (Sydney Number) 02 8011 3167 (you can also send us an mp3 file if you'd prefer). If you are an iTunes user, please leave a review when the feed is established so we can build our audience. Your comments (good or bad) help us improve the show.
Join us on our Facebook Fan Page: facebook.com/GeekActually
Get your Geek Actually swag at cafepress.com.au/geekactually
We also want to give a big shout out to Josh Spencer over at Spencer Cartoons who is currently working on our new cover art images and they are brilliant – find out more about Josh Spencer over at http://attackninja.blogspot.com/
Make sure you check out our other fine podcasts – Film Actually and The Geek Actually After Show.