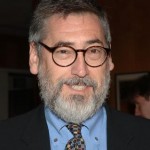 John Landis was once considered one of the 1970's and early 1980's wonder kid directors along with the likes of Steven Spielberg, Francis Ford Coppola, George Lucas, William Friedkin and Martin Scorsese. He had racked up massive hits with 'Animal House', 'American Werewolf in London', 'Kentucky Fried Movie' and 'Trading places'. He also scored massive cult points with 'The Blues Brothers' which was a flop on first release but has gone on to be a huge international hit on home video and late night cinema screenings.
He ran into huge problems in 1983 when a halicopter accident on the 'Twilight Zone: The Movie' set killed actor Vic Morrow and two children, the accident landed Landis and four others in court on manslaughter charges. They were finally acquitted of all charges in 1986 but during those years Landis was positive he was facing jail time and was a prolific filmmaker to make sure his family had enough money while he was away. During those years he continued his hit making with 'Three Amigos', 'Into The Night' and 'Spies Like Us'.
However, like the star that burns twice as bright (thank you to 'Blade Runner' for a great quote), Landis' career has been languishing in hell for many years. With the exceptions of some television producing ('Dream On' was quite successful) and Michael Jackson music video clips ('Black or White' and the landmark 'Thriller'), Landis hasn't really had a blockbuster or critical success since 'Coming to America' in 1988. Don't believe me? How about this for a filmography, 'Oscar' (1991), 'Innocent Blood' (1992), 'Beverly Hills Cop 3' (1994), 'The Stupids' (1996) and 'Blues Brothers 2000' (1998). Not a pretty sight.
However things are looking up. John Landis will soon be releasing 'Burke & Hare' starring Simon Pegg, Andy Serkis, Isla Fisher, Christopher Lee,Tim Curry, Tom Wilkinson, Jenny Agutter and Stephen Merchant. This could prove to be his comeback film and I, for one, pray it is as I am a huge fan of John Landis and I have been a little heartbroken by his films over the last few years. I will be eagerly waiting for this film. Now a trailer has hit the interwebs and it looks fun. Here's hoping that it doesn't represent the best moments and the rest of the film is the dreck that we have come to expect over the last few years.